BBC Radio 1's Chris Stark sets record straight after confusing fans with G7 Summit request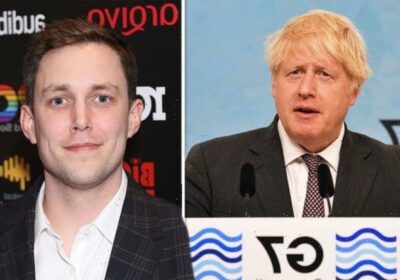 The G7 summit: What you need to know
When you subscribe we will use the information you provide to send you these newsletters. Sometimes they'll include recommendations for other related newsletters or services we offer. Our Privacy Notice explains more about how we use your data, and your rights. You can unsubscribe at any time.
BBC Radio One presenter Chris Stark, 34, asked his Twitter followers for pictures of the world leaders in Cornwall earlier this month, which sparked a mixed reaction. He wrote: "I am obsessed with everything going down in St Ives.
"And the world leaders basically heading to Newquay. Send pics, I'm obsessed. #G7."
Prime Minister Boris Johnson welcomed fellow G7 leaders, such as Joe Biden and Emmanuel Macron, to Carbis Bay in Cornwall on June 11.
Other parts of the country, including neighbouring St Ives, Falmouth and Newquay airport, also played a key role in the Summit.
Speaking to Express.co.uk, Chris has since clarified why he was so intrigued by the event.
He said: "Oh my god, I am obsessed.
"I find it mad that you've got St Ives and that little bit of Cornwall, which is just so stunning and so kind of quiet and tranquil, and then you've got these world leaders descending on it."
The DJ went on to say he sometimes plays at a club in Newquay called Berties, where they pick him up in a pink limousine from the airport.
"It's totally unnecessary and they drive you to the club and you DJ that night, it's all good fun," he added.
"But I like to imagine for a minute that Joe Biden is having the same experience, like turns up at Newquay airport, but has a slightly more suped-up limousine.
"What I understand is Berties wasn't open during the G7 summit though."
He added: "I've got a weird obsession with military and the ridiculousness of it all."
Many of Chris' 425,000 followers flocked to his post to comment at the time.
DON'T MISS…
Eamonn Holmes talks 'race against time' in chronic pain health ordeal [UPDATE]
Kirsty Gallacher hits back as GB News viewer calls her out [REACTION]
Dan Walker's parting post as BBC host bids farewell to colleague 'Sad' [REVEALED]
One simply commented: "Why?"
A second added: "Don't be, businesses are suffering here as a result, this is the last thing Cornwall needs."
Many others sent pictures from the county, much to Chris' delight.
He replied: "I will never get bored of this."
The presenter is supporting Babybel's #ForAllFans campaign, to give people the chance to give back to their local grassroots team.
Chris said of his involvement: "As much as I've always loved football, I've sadly never been good enough to get to professional level. That doesn't stop me trying though, and I do consider myself to have some better than average skills when it comes to fancy footwork.
"What I love about the Babybel #ForAllFans campaign is that everyone can get involved – if I can upload and share a skill, so can you. It gives 'average' people, like me, the opportunity to give something back to a local sports team, and how often do we get to do that?"
Head over to Babybel.co.uk/forallfans for more information.
Source: Read Full Article