Barbie fans 'have another reason to love Margot Robbie' due to unexpected skill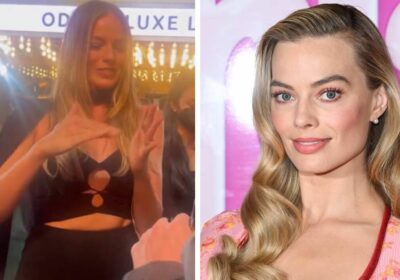 Margot Robbie discusses faking her own death
Barbie star Margot Robbie may be wowing audiences with her portrayal as the iconic Mattel doll, but her talents stretch way beyond acting, as her fans have rediscovered.
Since the movie made its triumphant debut last week, people have been gushing about the 33-year-old Australian actress' portrayal in what has been dubbed the movie of the summer.
With Robbie currently everywhere you look right now, old footage has emerged of her showing off an underrated talent of hers.
When she attended the UK premiere of her movie Amsterdam in September last year, Robbie was happy to meet some of her adoring fans and pose for photos.
Among them was a deaf fan who the actress started talking to in sign language on the red carpet, much to everyone's surprise.
READ MORE Barbie smashes Warner Bros box office record surpassing The Dark Knight
The resurfaced video which is once again doing the rounds on social media, shows Robbie using Auslan to communicate with the fan.
She appears to be saying "Nice to meet you", before the star posed alongside the fan for a picture together.
Responding to the clip, one user wrote: "This woman is literally perfect."
Another described Robbie as "amazing" and a third stated: "As if we needed another reason to love her!"
We use your sign-up to provide content in ways you've consented to and to improve our understanding of you. This may include adverts from us and 3rd parties based on our understanding. You can unsubscribe at any time. More info
Don't miss…
Barbie fans warned about downloading film over new phishing con[LATEST]
Piers Morgan blasts 'woke virtue-signalling' Barbie movie and Margot Robbie role[SLAMS]
Ryan Gosling hits 'big notes' in Barbie as Mark Ronson confirms actor sang[SONG]
Praising the actress for stopping during the rush of the premiere to make that particular fan feel special.
"She really took time to free her hands and communicate with a fan to make them seen. She's so precious," they tweeted.
Prior to Barbie, Robbie was probably best known for starring as Harley Quinn in Suicide Squad as well as opposite Leonardo DiCaprio in The Wolf of Wall Street.
And while movie-goers are thrilled to see her take on the real-life embodiment of the iconic doll, she wasn't actually a big fan of Barbie when she was younger.
Opening up to Vogue, Robbie said she was more of the "roll-around-in-the-mud kind of gal", even though her sister and cousins did have dolls.
"I didn't personally have any that I can recall.
"I think they were all so janky because they were not well cared for [by her sister and cousins]. They were all weird Barbies", she laughed.
Barbie is now ready to watch in cinemas.