Avril Lavigne calls off engagement, but 'that's news' to her fiancé, more news ICYMI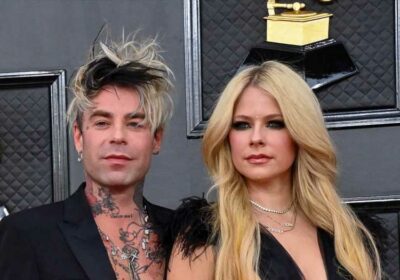 Engagement off
Nearly a year after Avril Lavigne and Mod Sun got engaged, their romance is over. "Not only have they hit the brakes on getting married — they're no longer together as a couple, either," TMZ reported on Feb. 21. It's not believed that cheating was a factor in the split. Avril and Mod, who got engaged in Paris in March 2022, were last seen together in early February. Interestingly enough, when asked about the breakup, Mod's rep told multiple outlets, "They were together and engaged as of three days ago when he left for tour so if anything has changed, that's news to him."
MORE: Rock stars when they were young
"Nasty" split, cheating allegations
The demise of Kelsea Ballerini and Morgan Evans' marriage was a long time coming. The "Miss Me More" singer opened up about her four-year marriage on the "Call Her Daddy" podcast this week, saying she hung on longer than she should have. "There were separations, there was years of couples therapy. There was like, many a night of sleeping on the couch," she said. Their summer 2022 split, she admitted, was "nasty." "As he's putting out a song about being blindsided, he's taking half the house that he didn't pay for," she revealed. "How was I married to this person for this long and I had no idea that that bit of character was tucked within that human being?" After the interview, Morgan accused his ex-wife of not telling the truth. "It's really sad for me to see this person, who I spent so much of my life with, and loved with all my heart, saying things that aren't reality and that leave out what really happened. She knows I'm not the type of guy to speak on those things publicly," he wrote on social media. "If this is what she needs to heal, I hope it helps." He added, "Please don't be mean. Don't be mean to Kelsea, don't be mean to each other. Life's too short." The following day, Page Six alleged that Kelsea cheated on Morgan with The Chainsmokers member Drew Taggart in August 2019 at Lollapalooza.
MORE: How famous couples met
Name game
Paris Hilton and Carter Reum welcomed a baby boy via a surrogate in January, and they've now revealed his name: Phoenix Barron Hilton Reum. In her upcoming memoir, "Paris," the heiress said she thought of the name 10 years ago. "If all goes well, by the time you read this, Carter and I will have a baby boy. We plan to name him Phoenix, a name that I decided on years ago when I was searching cities, countries and states on a map looking for something to go with Paris and London," she read from her book. "Phoenix has a few good pop culture reference points, but more importantly it's the bird that flames out and then rises from the ashes to fly again," she continued. "I want my son to grow up knowing that disaster and triumph go around and come around throughout our lives. And that this should give us great hope for the future." His middle names honor of her grandfather, Barron Hilton. "He was always my mentor. I looked up to my grandfather so much, and we were so close, and I miss him every day," she said.
MORE: Celebs who used surrogates
Not guilty plea
On Feb. 23, Alec Baldwin pleaded not guilty after being charged with involuntary manslaughter in the shooting death of "Rust" cinematographer Halyna Hutchins. The actor was holding a gun while rehearsing a scene for the film when it discharged. A bullet ended up striking the cinematographer, ultimately killing her. As part of the plea, Alec's not allowed to drink alcohol, possess a gun or talk to potential witnesses unless it's regarding the continuation of filming "Rust," TMZ reported. 
Baby bliss
Jude Law is in seventh heaven. On Feb. 20, The Sun claimed that the actor is now a father of seven children. In addition to its reporting, the British tabloid published photos of the English actor and wife Phillipa Coan pushing two strollers — a toddler in one, a baby in the other — leading to speculation that the couple, who welcomed their first child together in 2020, had recently had a second baby together. Jude is also a dad to adult kids Rafferty, Iris and Rudy with first wife Sadie Frost; daughter Sophia, who was born in 2009, with model Samantha Burke; and daughter Ada, who was born in 2015, with singer-songwriter Catherine Harding.
Sentenced to 16 years
Disgraced movie producer Harvey Weinstein was sentenced to 16 years in prison in his Los Angeles sexual assault case on Feb. 23. He is already serving a 23-year prison sentence for a 2020 rape conviction in New York. The sentence comes two months after a jury found Harvey guilty of raping and sexual assaulting a woman in a Beverly Hills hotel room in February 2013. Prior to the sentencing, Harvey called the whole case a "setup." "I maintain that I'm innocent. I never raped or sexually assaulted Jane Doe 1. I never knew this woman, and the fact is she doesn't know me. This is about money," he said. "Please don't sentence me to life in prison. I don't deserve it." The 16-year sentence will run consecutive to his New York sentence. 
He's back!
CNN anchor Don Lemon is back on the job. Nearly a week after being put on the shelf after he made sexist and ageist comments, Don returned to the air on Feb. 22. He made no mention of his brief suspension, but a source told TMZ Don is down to his last strike — one more incident (on or off air) and he'll be shown the door. Although he issued no mea culpa on air upon his return, he did reference his controversial comments in a tweet about 30 minutes before going live. "I appreciate the opportunity to be back on @CNNThisMorning today. To my network, my colleagues and our incredible audience — I'm sorry. I've heard you, I'm learning from you, and I'm committed to doing better. See you soon." 
More prison time
R. Kelly is currently serving a 30-year prison sentence for federal sex crimes, but he's in more legal trouble. On Feb. 23, the R&B artist was sentenced in Chicago to 20 years in prison in his federal sex crimes case in the Prairie State. The new two-decade sentence will largely run concurrent with his 30-year sentence out of New York, which was handed down last year. "Robert Kelly is a serial sexual predator who, over the course of many years, specifically targeted young girls and went to great lengths to conceal his abuse of Jane and other minor victims," prosecutors said. "To this day, and even following the jury verdict against him, Kelly refuses to accept responsibility for his crimes."

Source: Read Full Article