Ashley Tisdale Reveals This Actress Was Originally Supposed to Play Emily Osment's Character on 'Young & Hungry'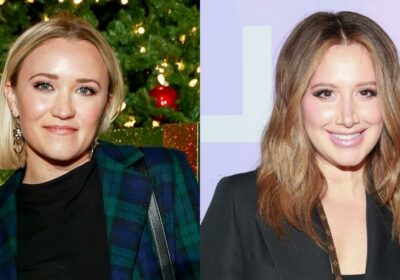 Ashley Tisdale is sharing some revelations about the show Young & Hungry!
If you didn't know, the actress was an executive producer on the ABC Family/Freeform series, and of course, made a few appearances as Logan Rawlings.
The hit comedy starred Emily Osment in the leading role of Gabi Diamond, a young food blogger who gets a job as a personal chef for a tech entrepeneur.
However, during a recent appearance on Alisha Marie and Remi Cruz's podcast Pretty Basic, Ashley revealed that another actress was originally supposed to play Gabi!
See what she said inside…
"That was actually developed for me in mind. I was producing and starring in, and I actually decided, because I was like, you know what, I want to establish myself as a producer. So I actually stepped away from the acting [role]," she said. "Literally, I felt like the girl [Emily] who starred in it, I knew it was her. I was like, this is… I see her at auditions all the time, like Emily is so this character, and it was really cool to have that experience."
"I was obviously then on another show at the time," she said. "But I love that I made that choice for myself because I was like, yeah, I knew that show was so good, it didn't have to have me a part of it. I was like, I can produce this and this will stand on it's own."
If you didn't know, Ashley is currently developing a new TV series inspired by her life as a working mom. Emily can also be seen starring in Young Sheldon!
Source: Read Full Article