Anne-Marie: The Voice judge 'couldn't even open the door' during worst bouts of anxiety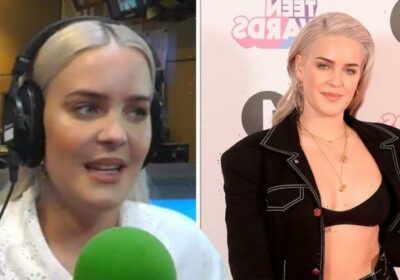 Anne-Marie on her struggle with 'answering the door' to people
We use your sign-up to provide content in ways you've consented to and to improve our understanding of you. This may include adverts from us and 3rd parties based on our understanding. You can unsubscribe at any time. More info
Pop star Anne-Marie, 30, opened up about her career in a new candid interview earlier today. The Voice coach discussed her new book You Deserve Better: An Imperfect Guide to Finding Your Happiness as she gave some insight into her life.
Anne-Marie was a guest on BBC Radio 5Live earlier today as she admitted struggling with anxiety.
Speaking to Nihal Arthanayake, she candidly recalled a time when she couldn't leave the house or even open her door.
She said: "I'd order a takeaway because I couldn't leave the house to go to a shop and get food.
"So I thought I'd order a takeaway so they bring it to me instead, so I don't need to leave the house.
"And then they'd get to the door and I couldn't even answer the door.
"I don't even think I'd answer the door, I'd probably message the app and say could you leave it outside the front door."
The singer added: "It was horrible, it was horrible."
The pop star is releasing a new book at the end of this month where she shares some insight into her life.
The memoir is combined with a self-help book as the star offers advice to readers.
Anne-Marie also admitted how having therapy has helped her a lot in her journey.
In another moment speaking to Nihal, the star also opened up about being bullied when she was younger.
She shared how her parents didn't know at the time and she channelled this into bad behaviour.
"Even now my parents have read the book and they message me saying, 'I wish I'd noticed,'" she explained.
"That makes me feel so sad because I don't want them to think that they're bad parents."
Elsewhere, Anne-Marie was a guest on Ken Bruce's show last weekend as she discussed her "Tracks of My Years".
Speaking to the radio host, she said of her upcoming book: "I don't try and put on fake happiness.
"I want people to know the truth.
"It took me too long to get to a place where I liked myself and I could go out into the world with confidence.
"I don't want people to waste as many years as I did being anxious and so I've tried to put it in a book."
The pop star is well known for appearing as a coach on The Voice UK alongside Tom Jones.
She also appeared on Celebrity Gogglebox earlier this year as well.
Source: Read Full Article