Andrew Lloyd Webber breaks silence after Coronation snaps go viral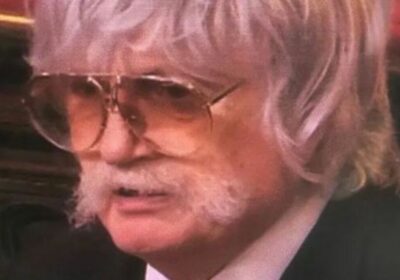 Andrew Lloyd Webber recalls memory of Queen's 60th birthday
Lord Andrew Lloyd Webber has broken his silence after he was spotted in viral pictures taken at King Charles's Coronation.
The world-famous composer, of hit musicals such as Phantom of the Opera and Jesus Christ Superstar, was sat next to a very distinctive looking gentleman who had social media in a flurry.
Many were convinced that his shock of grey hair and his impressive moustache were fake, and quipped that it was in fact Meghan Markle in disguise.
One, using the handle @bobbicee wrote on Twitter: "[Meghan], you're not fooling us…"
Another @edwardderuiter said: "I don't know much about the #Coronation but I do know this is obviously a disguise and 100 per cent they're going to try and steal the crown jewels."(sic)
Feeling compelled to respond to this remark Andrew retweeted this adding his own take on it today.
"I can confirm it probably wasn't MM and had no jewels on his person as far as I could see – ALW," he wrote to his 218.000 followers.
Andrew would be well placed to comment on this since the person in question was in fact fellow composer Sir Karl Jenkins.
Unlike Andrew the Welsh multi-instrumentalist doesn't compose for musical theatre.
His best-known works include the song Adiemus and the Adiemus album series; Palladio; The Armed Man; and his Requiem.
Don't miss…
Carol Vorderman defends herself after some I'm A Celeb fans complain[LATEST]
Coronation concert viewers slam 'boring' event and 'appalling' sound[INSIGHT]
Rowan Atkinson's love life from quickie divorce to younger girlfriend[INSIGHT]
Indeed, one of his works was played during the historic ceremony.
The movement, Tros y Garreg, which translates as Crossing the Stone and is based on a Welsh folk song, was performed by the coronation orchestra, joined by royal harpist Alis Huws.
It is part of a concerto commissioned by the King more than two decades ago when he was Prince of Wales.
At the time the Prince was reintroducing the role of the royal harpist and Catrin Finch, who first held the reinstated role, played Sir Karl's work.
He recently told the BBC he was "honoured" to have a part in the Coronation.
Sir Karl, 79, said: "It obviously sums up Welsh culture — the harp — and he [King Charles III] has always supported Welsh music.
"I don't know whether he chose it, but he was happy to have it there. I know he likes it, otherwise he wouldn't have asked me," he added.
Sir Karl has received numerous honours and accolades throughout his career.
On the 2005 New Year Honours a he was appointed an Officer of the Order of the British Empire (OBE)
He was promoted to Commander of the same Order (CBE) in the 2010 Birthday Honours.
In the 2015 Birthday Honours he was made a Knight Bachelor.
Source: Read Full Article