Alex Jones recalls terrifying blunder losing famous composer's cello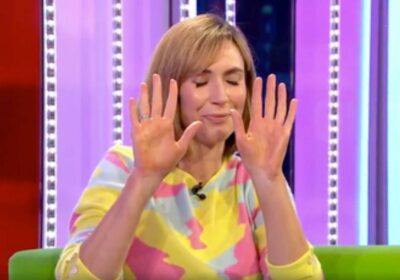 Alex Jones recalls losing Julian-Lloyd Webber's cello
We use your sign-up to provide content in ways you've consented to and to improve our understanding of you. This may include adverts from us and 3rd parties based on our understanding. You can unsubscribe at any time. More info
Alex Jones enraged conductor Julian Lloyd Webber after promising to guard his cello, but then allowing it to go missing after she was distracted by a handsome man. The BBC One Show star felt "sick" during the mishap, but in a twist of fate, her employer then decided to promote her to a brand new job as a result.
Alex had been in Manchester Arena when legendary composer Julian rushed out to get a signal, leaving his cello with her for safe keeping.
Then she confessed to "chatting up" a hunky car park attendant who had suddenly arrived, which momentarily distracted her attention from the "really expensive" instrument.
"When I turned around, the cello had disappeared and I just felt sick," she winced.
"Julian Lloyd Webber was furious – his eyebrows were going at a million miles an hour. He was so cross and rightly so!" she agonised on the How to Fail With Elizabeth Day podcast.
READ NOW: Radio 2's 'purge of old-timers' has 'backfired', blasts Karren Brady
"Luckily someone had seen it and taken it back, and put it under the stage with the rest of the instruments," Alex explained.
"[However] it was missing in action for a good few hours, because nobody could understand where it had gone to."
That was far from the first mishap Alex's employers had endured.
The then cash-strapped star was tasked with taking another "world-famous conductor" for a meal – but then she realised in horror that she had just £3 to her name.
"It was an insufficient funds day so I just had to make do," a shame-faced Alex admitted.
"I bought him a Happy Meal. I took him to the drive through and he was like this world famous conductor."
Her aghast colleagues' jaws dropped as they exclaimed: "You did what?!'"
Alex replied: "Yeah, he was fine with me, we made the toy, he was really happy. He was fine with a happy meal, not even a full McDonalds!"
There had been a string of major mishaps, and after the cello incident, her heart sank when her boss called her in and announced: "Right, you! This [job] is not for you."
However, he then handed her a lifeline when he suggested another BBC position instead, declaring: "Maybe we need to screentest you."
"They were looking for somebody to present on BBC Choice. It was in the days when digital had just started up," Alex reminisced.
Her foray into music presenting also led to trips to Marbella to create more material – and Alex was in her element.
Alex also recalled that she was still studying at Aberystwyth University in her native Wales when she was invited to fly out to Spain for the game show Prickly Heat.
The dates clashed with her final year exams, and she had to plead with her college to fly her exam papers out for her.
The extraordinary chain of events led to one of her exams being invigilated by presenter Davina McCall.
"I sat in it a gym at exactly the same time as my friends in Wales and Davina was there going: 'Right you have half an hour left'," she exclaimed, describing the experience as "surreal".
Source: Read Full Article