Alan Ruck's electric truck allegedly didn't malfunction before crash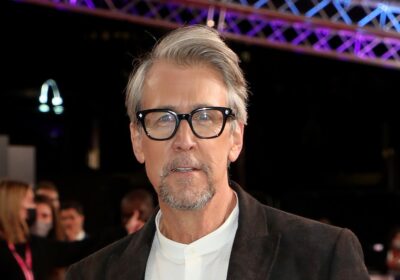 Succession star Alan Ruck's electric truck allegedly showed no signs of malfunctioning before he crashed into the side of a Hollywood pizzeria
Ruck crashed his Rivan R1T truck into Raffallo's Pizza in Hollywood last week
Rivian claims data from Ruck's vehicle show no malfunction before the crash 
Police are investigating if Ruck was unfamiliar with its high-tech features 
The mystery of what led Alan Ruck to barrel through a busy Hollywood intersection and crash into the side of a pizzeria may be coming more into focus.
After police were reported to be investigating the possibility that the 67-year-old Succession star lost control due to unfamiliarity with his electric Rivian R1T truck's high-tech features, the electric vehicle manufacturer has weighed in.
Rivian claimed to TMZ on Wednesday that it had found no evidence of a malfunction in Ruck's truck prior to his shocking crash on November 1.
A spokesperson for the company said that data from Ruck's vehicle had been examined by Rivian, and it allegedly showed no signs of faults within the truck.
They added that Rivian is cooperating with law enforcement as the investigation into the crash continues.
Weighing in: The electric vehicle maker Rivian claims that its R1T electric truck driven by Succession's Alan Ruck did not malfunction before he crashed it into a Hollywood pizzeria on November 1; seen in 2021 in London
Nothing to see here? A spokesperson for Rivian claimed to TMZ that data from Ruck's vehicle showed no signs of faulty functioning, and they said the company is cooperating with law enforcement; an R1T truck similar to Ruck's is pictured
It's unclear if police investigators have had a chance to independently examine and verify the truck's alleged data from Rivian.
It was previously reported on Tuesday that police were considering that Ruck may have had difficulty handling his Rivian R1T's complicated high-tech features.
Although it's still a theory at the moment, law enforcement is considering whether the truck's various driving modes — some of which allow it to accelerate incredibly fast — may have contributed to the crash, according to TMZ.
According to law enforcement sources, responding police officers bought Ruck's claims that he had no idea what led him to hit the popular pizza spot.
Instead, they think the newness and potentially confusing features of the brand-new truck may have contributed to the incident.
Rivian is a rising electrical vehicle manufacturer best known for its pricy and luxurious SUVs and pickup trucks.
Ruck's R1T truck likely had three different all-wheel drive systems that it could switched among: Dual Motor, Performance Dual-Motor and Quad-Motor.
The Performance Dual-Motor and Quad-Motor settings offer fast acceleration, and drivers using the Quad-Motor system can go from 0–60 miles per hour in just three seconds.
Out of his element? TMZ peviously reported that police think Ruck may have barreled through an intersection and crashed into the building because he was unfamiliar with his electric truck's high-tech features; seen in 2022 in LA
Shocking: Ruck was involved in a four-vehicle crash before wedging his Rivian R1T electric truck into the side of Raffallo's Pizza; the accident pictured on November 1
Electric vehicles are also known to accelerate faster than traditional combustion engine vehicles in general. 
Although it's still unclear just how police think Ruck's trip went awry, they reportedly think he wasn't completely sure how to pilot the space-age truck, which he may have lost control of.
The vehicle has a total range of between 230 and just over 400 miles on a full charge, depending on its battery size. 
Rivian's trucks also have a hands-free mode similar to Tesla's autopilot function, but it has camera's installed in the cab to ensure that driver's keep their eyes on the road, even if their hands are off the wheel.
It's not known if Ruck had the self-driving mode installed on his truck, and if it was engaged if so. 
In 2021, the R1T scored the coveted Motor Trend Truck of the Year designation.
According to the law enforcement sources, the LAPD is likely closing its investigation into the crash and letting insurance companies representing Ruck, the four vehicles involved and the pizzeria duke it out.
The incident began around 9 p.m. on Tuesday, November 1, when Ruck's truck appeared to come barreling through the La Brea Avenue and Hollywood Boulevard intersection.
Officer's think the newness of the vehicle and it's special features may have played a role, particularly with its all-wheel drive modes
Super fast: The Rivian R1T has three all-wheel drive modes, including the quad-motor setting, which uses all four electric motor and lets it accelerate from 0–60 mph in just three seconds 
Off the hook: Ruck claimed at the scene that he didn't know how the crash happened, and police are reportedly ready to close the investigation after accepting his story; publicity still for Ferris Bueller's Day Off
Back on top: Ruck is best known for starring in Ferris Bueller's Day Off, but he had a career revival in recent years when he played the oldest son Connor Roy in Succession (pictured)
Along the way, it hit multiple vehicles before slamming into the brick exterior of the pizzeria and coming to a stop.
A pair of people at the scene were reportedly injured, but they were 'conscious and breathing,' according to TMZ.
The publication's sources added that there was 'no indication of DUI.' 
Ruck is best known for his early role as Ferris Bueller's best friend in Ferris Bueller's Day Off, but in more recent years he benefited from renewed attention when he played the shoved-aside older brother Connor Roy on HBO's acclaimed dramedy Succession.
Source: Read Full Article