Al Roker was rushed back to the hospital one day after his release, plus more news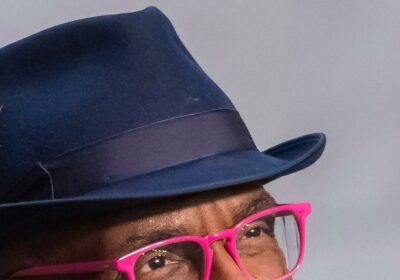 Al Roker's health problems continue as co-stars gear up for tree-lighting
Al Roker's recovery from the blood clots that recently left him hospitalized isn't over quite yet. On Wednesday (Nov. 30), Page Six reported the "Today" weather guru was rushed back to the hospital in an ambulance the day after he was released following treatment for blood clots in his leg and lungs. "Al was taken from his home in a stretcher back to the hospital on Friday, the day after Thanksgiving," an eyewitness told the outlet. "His condition was worrying, but once back in the hospital, he improved." Al, 68, was slated to be replaced by Mario Lopez at Wednesday's annual Christmas Tree Lighting at Rockefeller Center, according to the event page. Last week, he missed the Macy's Thanksgiving Day parade for the first time in 27 years, as he was still under the care of his doctors. But as he told fans on Instagram at the time, he was able to leave the hospital and join his family for the holiday dinner at home. He's been away from the "Today" show for four weeks because of his latest health issues, though. A source told Page Six Al has remained hospitalized since his return last week.
Keep reading for more news …
MORE: Revisit the most memorable talk show host scandals, feuds and controversies
Rebel Wilson addresses new line's lack of inclusive sizing
Rebel Wilson has addressed backlash over her new loungewear line's limited size options, assuring social media users that R&R Club's current offerings were released as a sort of test run, rather than a complete collection. In a series of Instagram Stories posts late on Tuesday (Nov. 29), Rebel explained that once she and her partner, Ramona Agruma, find "success" with R&R, they "are planning on doing more colours and sizes." R&R Club's website currently offers only a $179 hoodie and a pair of $149 sweatpants, both in a shade dubbed "snow white," both in sizes XS through XL. Shortly after the line launched, critics jumped on Rebel about the not-so-inclusive sizing. Chief among their collective complaints was the actress' alleged "fatphobia," which rubbed many fans the wrong way, since Rebel herself dropped more than 80 pounds in the past two years. "I don't understand how someone who is plus size for the majority of her career and the majority of her life — someone who knows hard it is to be fat, to shop for clothing and actually find it in your size — I don't understand how someone with that background, that knowledge, can release a brand that only goes up to an XL," said TikTok user Destiny Ann, according to a Page Six report. But according to Rebel, the brand is only just getting started and more sizes are coming soon. In another Stories post, the star, clad in her own cozy-looking white hoodie and sweatpants, asked fans to share what "colours or sizes" they'd like to see "for sweats." She also posted that the original, two-piece collection is "Almost SOLD OUT."
MORE: More stars who've come out as members of the LGBTQ+ community
Fleetwood Mac, Sheryl Crow and more stars react to Christine McVie's death
Fleetwood Mac announced the death of their bandmate, Christine McVie, on Wednesday (Nov. 30). She reportedly died at age 79 after what was described as a short illness. "There are no words to describe our sadness at the passing of Christine McVie," they said in a group statement about their co-lead vocalist, keyboard player and the songwriter behind hits like "You Make Loving Fun" and "Little Lies." "She was truly one-of-a-kind, special and talented beyond measure. She was the best musician anyone could have in their band and the best friend anyone could have in their life," their statement continued, in part. Other stars paying tribute to the rock icon within hours of the announcement included Sheryl Crow, who posted, "I am so sad to hear of Christine McVie going on to heaven. The world feels weird without her here. What a legend and an icon and an amazing human being. RIP." Rockers Garbage also tweeted about her passing, saying they were "Just gutted" by news of her death. "Songbird forever," they added.
MORE: Paul Walker died 9 years ago today, more stars gone too soon
Pink invests thousands in art work made by chimpanzees
Animal lover and arts supporter Pink recently plunked down $5,000 for an acrylic painting made by two unusual artists whose work is set to be shown at Art Basel in Miami. The artists, Patty and Kramer, are chimpanzees who reside at the Save the Chimps sanctuary in Florida, one of the largest sanctuaries of its kind, according to People. "Chimps share 98% of our DNA," Save the Chimps CEO Ana Paula Tavares said in a press release. "They are similar to humans emotionally, physically, and even creatively." Featuring a blast of blue, white, and, yes, pink, against a black canvas, the painting was purchased online by the singer, who reportedly called it a "masterpiece" and was "heartened" to find out painting can be used as a therapy for chimps, just as it can with humans. Proceeds from the piece will go to support more of the animals at Save the Chimps, which is devoted to providing life-long care for their rescued residents, most of whom come from research laboratories and the pet and entertainment industries.
Taika Waititi credits Robert Pattinson with introducing him to future wife, Rita Ora
It turns out Rita Ora and Taika Waititi have a certain Hollywood heartthrob to thank for their romance, which the couple reportedly made official with a pair of wedding bands earlier this year. In a recent chat with Justin Theroux for his "Interviews" series, Taika, 47, opened up about how he and the singer, 32, went from strangers to pals to besties, before the two opted to "ruin it all" by moving beyond the proverbial friend zone. He also dished on the celeb who first introduced them. "Everyone thinks we met in Australia last year. You know who brought her to my house? Rob Pattinson. He brought her over," Taika told Justin, per Daily Mail. "I was having a little BBQ and we just got chatting, we hit it off, became friends. Then for the next three-and-a-half years we were just good mates." The "Thor: Love and Hunger" director went on to share that they're both "independent," career-wise, and still "best friends," two factors that have helped make it work. "We come from different parts of the world, she's from Kosovo and I'm from New Zealand. They're very far away but our backgrounds were quite similar," he continued, recalling their shared "poor, working-class backgrounds" and parents who worked in pubs. Later in the interview, Rita, who teased earlier this year that she has a new album on the horizon for early 2023, gushed, "I love being in love," but said her life is still focused on her work and herself, not her relationships. "Look, we are women," she added. "Men don't get asked, "Oh, you've had 100 boyfriends or girlfriends.' Sometimes they do, but the majority of the time they don't."
Jim Carrey joins throngs of stars leaving Twitter
Like Gigi Hadid, Whoopi Goldberg, David Simon and a slew of other celebs, Jim Carrey is done with Twitter in the Time of Elon Musk. The comic and illustrator said goodbye to followers on Tuesday (Nov. 29) — less than 24 hours after users noticed the platform's new billionaire owner had done away with Twitter's policy against COVID-19 disinformation. "I'm leaving Twitter, but 1st here's a cartoon I made with my friend Jimmy Hayward," Jim posted alongside animation he said was based on his painting of a "crazy old Lighthouse Keeper" "… summoning the angels and shining his lamp to guide us through a treacherous night." With one last "I love you all so much!," he then presumably signed off for good. Jim's announcement came the same day the Associated Press reported Twitter had updated its online rules to say the platform "is no longer enforcing the COVID-19 misleading information policy." (Over the past two weeks, COVID-19 cases have risen by 14 percent worldwide and 7 percent in the United States, the New York Times reported Wednesday.) Since his controversial takeover, Elon has fired thousands of employees and offered "amnesty" to users who were previously banned or restricted because they engaged in hate speech. When Gigi Hadid announced her exit in early November, the model shared a post noting Twitter's "entire Human Rights team" had been fired. "Especially with its new leadership," Gigi wrote, "it's becoming more and more of a cesspool of hate & bigotry, and it's not a place I want to be a part of."
Prince William, Duchess Kate arrive in Boston as royal aide steps down over racist comments
Prince William and Duchess Kate arrived in Boston on Wednesday (Nov. 30), and kicked off three days of events leading up to Friday's Earthshot Prize Awards ceremony. In a statement, William said he and his wife were "delighted" to be back in the United States and referenced the late Queen Elizabeth II's enduring positivity. "My grandmother was one of life's optimists. And so am I," he said, per People. "That is why last year we launched the Earthshot Prize with the ambition to create a truly global platform to inspire hope and urgent optimism as we look to save the future of our planet." Meanwhile, another racism-tinged scandal hit the royal family on Wednesday after the CEO of a charity organization shared offensive comments made by the queen's longtime confidante, Lady Susan Hussey, at a Buckingham Palace reception hosted by King Charles' wife, Camilla. According to a tweet shared by Sistah Space CEO Ngozi Fulani, who is Black, the (now former) royal aide asked her repeatedly where she was from, even after Ngozi said she was "born here" and is British. "No, but where do you really come from, where do your people come from?" the aide, 83, reportedly pressed. Ngozi also said "Lady SH," as she's apparently known, tried to touch Ngozi's hair without consent. A rep for the Prince of Wales later told Sky News the aide's comments were "unacceptable," and that she "has stepped aside with immediate effect." She reportedly apologized through a rep for the palace. Lady Hussey served as Elizabeth's lady-in-waiting for more than 60 years before being named "Lady of the Household" by King Charles, according to Time.

Source: Read Full Article