We tried the South Asian-founded lip colour line created specifically for women of colour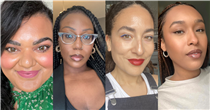 Written by Morgan Fargo
Just B Cosmetics co-founders Bina Khan and Madiha Chan on internalising the lack of beauty products for South Asian women and what they're doing to finally address the issue.
Friends and co-founders Bina Khan and Madiha Chan met on opposite sides of the beauty spectrum. Bina, a make-up artist based in Pakistan who has worked on over 20,000 faces, has a rich history of working with cosmetics – celebrated for her innate knack and judgment on colours, finishes and what works best for South Asian women. Madiha, a Google data engineer based in the United States, first came to Bina as a bride looking for help with finding the right products for her skin. 
Eventually, and during a pandemic, no less, the two came to found a cosmetics brand positioned to serve women of colour with products that spark joy. Meet Just B – a problem-solving solution that draws on the natural alchemy of sharing and community. For IRL feedback, scroll to the end for Team Stylist's verdict on the inclusive lip colours.
Bina Khan: I've been a make-up artist in Karachi, Pakistan, for 25 years and I'm known for creating combinations of lipstick colours and foundations that work well on brown skin. I didn't realise that I was solving a problem that should have been solved by appropriate products in mixing these colour combinations. Instead, I was throwing technique at it. Because of this secret recipe approach, I became well known as someone who honours all skin tones and can pre-mix existing colours to find the right shades and tones.
I didn't think about it much because I've always been a part of the culture of sharing things with your sisters and friends – it's something I think a lot of brown women share. But, we do take sharing these little secret recipes with each other for granted, thinking that's just the way it is.
I first met my co-founder, Madiha, as a bride – she came to me for her bridal make-up and then again for the weddings of her siblings. As she wanted to learn more about my process, it became apparent how ridiculous it is that we were having to mix so many things to get something that works for us. That's how the brand started.
Throughout the journey, I've become much more emotional about what we've created. As a make-up artist, I've had the skills to quietly problem-solve the lack of products for brown women and I had never thought deeply about that having a lot of emotional weight. I'd never felt that I should be asking companies: "Why are you not looking at me?" Then, when we created the first Just B lipstick that I could apply in one swipe, and it didn't look green around my mouth but made my brown skin pop, I realised how much of this I had internalised. 
Madiha Chan: South Asian women have been judged in many shapes, forms and ways for all of our lives. The choices we make about our careers, whether we have children, when or if we choose to get married – it can feel like we internalise the fact that we are the problem since birth. If there is a problem, then it is because of me, not because someone else is not catering to my needs. This had become the subconscious undertone for how I perceived the beauty industry.
When I met Bina, she showed me a recipe of six products to mix to make a pink lip colour I could wear to work – a simple pink that wouldn't enter the room before I did. Every morning I would mix these six colours and it would remind me that I'm not being catered to. And I knew Bina had these solutions but what if there was something that worked for us?
This is why we named the brand Just B because we've been judged all our lives – what if we could have a place that celebrates everything we are, instead.  
Madiha Chan: When we started the brand, we wrote down three things: who the people are that we want to address and respect and cater to; that we wanted to spark joy; and that we wanted to underline that one size does not fit all. Yes, I am still mixing colours, but now I mix them with joy because I want to explore the different combinations. 
Bina Khan: It's about taking back that same narrative of the fact we are alchemists – we make these little mixes. And when something you've designed has a life beyond what you've envisioned for it, well it's not yours anymore – it belongs to a community. 
Meena Alexander, Features Editor
Meena in Not Just Champagne duo – Kashmiri Chai pigment glaze and Ruby Cocoa lip pigment fluid.
"When it comes to my make-up choices, I usually go for 'party up top and business on the bottom' – that is, a bold or colourful eye and little more than a slick of Vaseline on my lips. The truth is, I struggle to find lipsticks that suit me: on my naturally dark lips, pinks tend to look garish and browns often have a grey undertone that is more Halloween than Hot Girl. I had high hopes from Just B from the off, though, with its dual-ended combo allowing me to mix and match the rich matte brown of Ruby Cocoa with the dusky-pink glaze of Kashmiri Chai. It took some playing around to find the perfect blend for me, but in the end, I was totally won over. Together they create a beautiful, creamy neutral that makes me feel properly put together. My Vaseline tub might just take a back seat."
Billie Bhatia, Fashion and Beauty Features Director
Billie in Not Just Pink duo – Mondays pigment glaze and Sundays lip pigment fluid.
"I'm constantly in search of what I would file under 'nude-y pink'. But, what I really want in that lipstick is a high pigment, slightly matte finish darkish-pink that I can wear with everything – and I have found that in the Just B lip duo. It provides nourishment and colour in the lipstick and then an even richer pigment and matte finish with the liquid end of the stick. Liquid lipsticks can be really drying on the lip and end up clumping together, but this one is matte without making me reach for a glass of water, and while it budged a bit when I ate, it's such a treat to reapply I didn't mind at all."
Miranda Larbi, Strong Woman Editor
Miranda in Not Just Red duo – Poison Apple pigment glaze and Ruby Slippers lip pigment fluid.
"I never wear lipstick. Every time I've done so in the past, someone has said something bizarre or lewd about it, so I'm super-unconfident about drawing attention to my lips. This colour did feel quite flattering and this lipstick is one I'd like to get the courage up to wear out. It definitely made me feel bolder wearing it and I could see myself putting it on with a naked eye and a post-holiday tan."
Leah Sinclair, Senior Lifestyle Writer
Leah in Not Just Peach duo – Grapefruit Pink pigment glaze and Teakwood lip pigment fluid.
"I usually have a very specific process when it comes to lipstick, starting with a brown lip-liner, a pink-ish lipstick and a swipe of gloss to bring the look together. This lipstick fitted into my day-to-day routine perfectly – it was the right shade and consistency and didn't require too much reapplying, making it really easy to use."
Main image: Stylist
Source: Read Full Article