This Is My Favorite Hot Tool For Faking a Blowout in Under 7 Minutes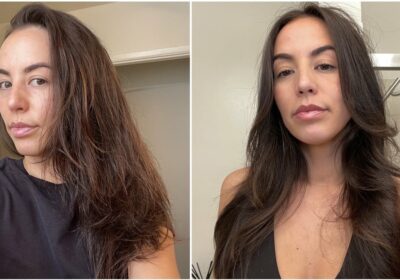 I LOVE IT it's like a hair dryer with no noise👏🥹🧚✨ #thermalbrush #blowoututorial #roundbrush
As someone who writes about beauty every single day, I'm sure it comes as no surprise that I've tested my fair share of hair tools. Whether it's blow dryers, straighteners, or curling irons — you name it, I've probably tried it, so I'm very particular and I only want the best of the best. When I saw a viral TikTok video of Devin Raimo using the Amika Blowout Babe Thermal Brush ($100), I was practically sold without ever even touching it, which is essentially unheard of for me.
In her video, Raimo says she likes the Amika brush even better than the Dyson Airwrap, which is the tool I use to style my hair most often. When she showed one side of her hair done with the thermal brush and compared it to the other side that was air-dried, the contrast was astounding.
I have thin, fine hair, and when I let it air-dry, it looks frizzy, poofy, and wavy — but not the cute kind of wavy; the uneven, "what the f*ck is her hair doing?" kind of wavy. Because of this, I don't usually air-dry my hair — I typically wash it twice a week at max and then give myself a blowout. Whenever I opt to let my hair air dry and then opt for a blowout, the sheer amount of flyaways I end up with usually propels me into pulling my hair into a slicked-back bun.
However, since getting my hands on this tool, I've been air-drying my hair way more often, and it looks so good when I'm finished styling it that I can't believe how long I lived without it. Keep reading for more of my full review on the product, and see the before and after photos for yourself.
About the Amika Blowout Babe Thermal Brush
This hot tool promises a bouncy blowout without the need for a blow dryer.
The device features a 1.5″ ceramic barrel in the form of a round brush.
The brush features 0.5″ nylon bristles to smooth the cuticle.
It heats up to 356 degrees and works on all hair types and textures.
What I Like About the Amika Blowout Babe Thermal Brush
My favorite thing about this product is how much it cuts down on my frizz. The first time I used it was on air-dried hair, and I was shocked to see how much this thermal brushed smoothed my hair and eliminated all of the poof I've gotten used to seeing. I don't use it too much on the roots of my hair, so I still see some frizz in that area, but the body of my hair is left silky smooth each and every time I use it.
The round brush itself is lightweight, easy to handle, user-friendly, and I love that it can create a number of different looks. I can curl my hair, give myself a bouncy blowout, or just smooth everything out using one simple tool. Plus, it doesn't take long to get through my entire head of hair — usually about seven minutes at the most.
As mentioned, I have fine, thin hair, but I've tested this on a few of my girlfriends who have much thicker and longer hair than me, and the result is always just as good. A few of my friends who are hopeless with a blow dryer and round brush combo have even commented on how easy it is to master.
How to Use the Amika Blowout Babe Thermal Brush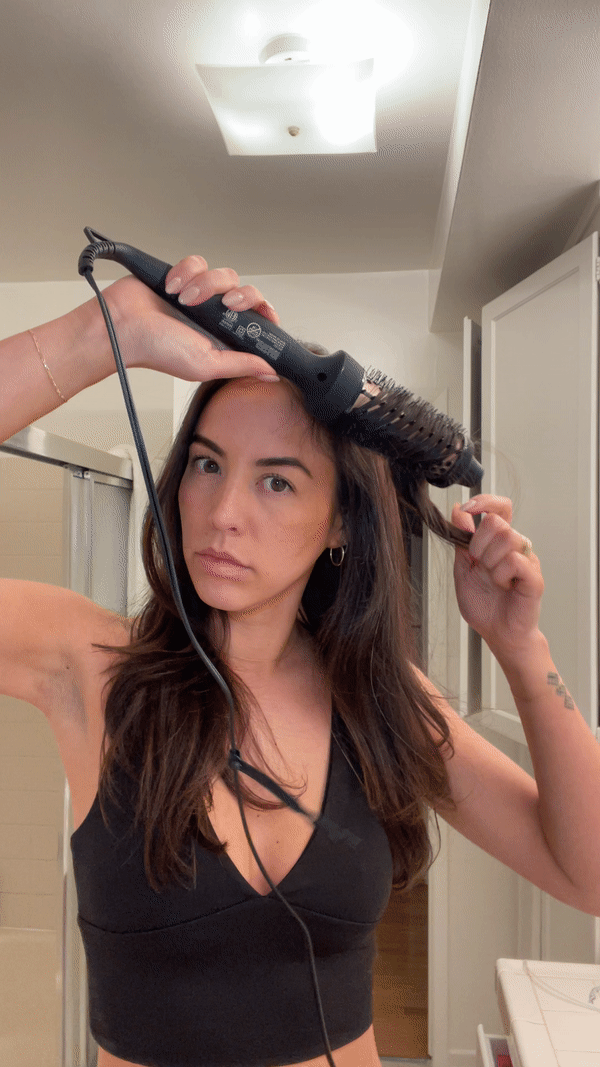 The brand recommends using the product in a few different ways. To achieve a blowout, use the brush like a typical round brush and blow dryer combination, just without the blow dryer. If you're looking to add more shine or volume to your hair, it suggests sliding the on/off button all the way up until it glows red, which activates the negative ion generator.
When I have plenty of time to get ready, I like to use this tool on air-dried hair. After washing in the shower, I prep my hair using a leave-in conditioner and heat protectant, and then I usually work on my makeup. Once my hair is completely dry, I go in with the thermal brush. I section my hair into three sections and work from the bottom to the top. I like to either curl my ends under and inward to give myself a '90s blowout, or I like to twist my hair in a backward motion away from my face to give my ends a flipped-out look.
If I'm in a time crunch, I use a blow dryer to quickly get everything completely dry. From there, I section off my hair and run the thermal brush through it.
What to Consider Before Trying the Amika Blowout Babe Thermal Brush
This product is meant to be used on dry hair only, and can't be used on wet or damp hair. This was something I didn't know initially, but I'm glad I looked into. In order to use it you'll either need to let your hair air-dry completely or dry it using a blow dryer, which does add a few extra minutes onto your styling time.
This thermal brush also only heats up to 356 degrees and doesn't get as hot as other tools I've used. This hasn't been an issue for me and I actually like the temperature, but it's just something to think about if you prefer your tools to be on the hotter side.
Is the Amika Blowout Babe Thermal Brush Worth the Splurge?
For my needs, this product has been absolutely wort the splurge. However, if you're looking for a blow-dryer brush that can dry and style your hair at the same time, this probably isn't the product for you. If you've been looking for an easy way to style your hair after it's been air-dried, or the perfect way to cut down on frizz, then IMO, this tool is priceless.
Where Is the Amika Blowout Babe Thermal Brush Available?
The Amika Blowout Babe Thermal Brush is available directly on the Amika website as well as Planet Beauty.
Rating: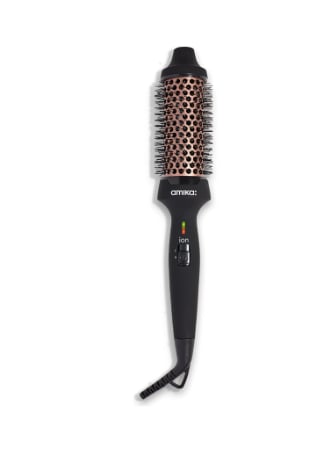 Source: Read Full Article