This CBD Moisturizer Is So Good, Sephora Can Barely Keep It in Stock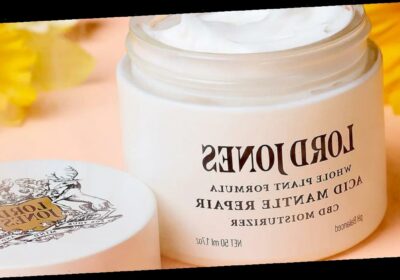 It's rare for me to make it through an entire jar of moisturizer. As someone who tests skincare regularly, I don't always finish every product that comes across my desk. But every so often, one winning formula hits it off with my skin so well, I actually come to depend on it to keep my complexion in check. As of late, it's been the Lord Jones Acid Mantle Repair Moisturizer. 
After scraping the last bit of product out of the jar this week, a slight panic arose. The soothing cream has been my complexion's crutch, keeping redness, irritation, and dry patches at arms length for the past several months. My sensitive skin can be wholly unpredictable, but one slather of the emollient formula and any concerns are instantly talked down. 
The formula is packed with nourishing ingredients that treat stressed-out skin, whether damage from UV/blue light, deepening age lines, "maskne," or environmental aggressors are to blame. The main source of healing comes from 250mg of full-spectrum hemp-derived CBD, but just as effective additives such as hyaluronic acid, sunflower seed oil, sustainably sourced squalane, and five-ceramide complex help to make it the game changer it is.
Shop now: $75; sephora.com
Whether you've over-exfoliated your skin, gone too heavy with retinol applications, or extra cleansed your skin to incite dryness, this cream will address irritation overnight. In fact, during a brand-run clinical study, it was found the formula reversed dry skin within 30 minutes after a single application. 
Lord Jones was the first CBD brand to appear at Sephora in March 2020. Since its launch, the moisturizer has managed to sell out on three separate occasions. Not only has the product attracted the attention of celebrities like Ruby Rose, Amy Sedaris, Jaime King, and Kristen Bell, but plenty of shoppers also have nothing but praise for it. Reviewers love that a little goes a long way, and that the moisturizer is accompanied by a tiny golden spoon for hands-free scooping.
The Lord Jones Acid Mantle Repair Moisturizer just restocked at Sephora for $75 per jar — hurry and grab one before it sells out again. 
Source: Read Full Article