The bullet bob, bleach blonde and zinc-grey are just a couple of 2023's biggest hair trends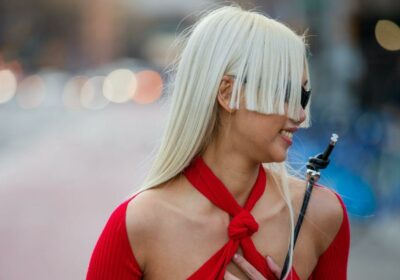 Written by Morgan Fargo
All products on this page have been selected by the editorial team, however Stylist may make commission on some products purchased through affiliate links in this article
Trend forecaster and hair stylist Tom Smith breaks down the need-to-knows for the new year. 
A new year is fast approaching and with it comes a slew of new hairstyles. While this year saw the sustained popularity of the bouncy blow-dry, the face-framing cut, the mid-length collarbone and curtain bobs and the midi-flick, a new horizon dawns. 
Predicted by hairstylist, trend forecaster and presenter Tom Smith, start planning your new hair now with these five trends that will be everywhere in 2023. 
1.




The Bullet Bob

"The bullet bob is an evolution of the wolf cut, mullet and shag styles that have been building over the last 18 months. Rather than returning to a classic bob shape, this mid-length haircut has had a mullet-inspired makeover, incorporating outgrown curtain bangs with a layered bob shape. The beauty of the bullet bob is that it's a genderless shape.

"We get a 'two layered' bob haircut that has the balance of a mullet (longer and heavier toward the back) but retains texture and detail around the face."

Ask your stylist…

"To cut a choppy layered bob that just hits the top of your shoulders and add a shorter, detailed piece that sits around the hollow of your cheekbone to contour your face and modernise this mid-length."

Tip:

"This style works best with a 'lived in' texture, I'd recommend air drying your hair with a generous amount of leave-in conditioner (my go-to is Olaplex No.6) and add bends and detail with a straightening iron on low heat once the hair is completely dry."

2.




Pink Out

"Ever since Valentino sent a totally pink collection down the runway for next season, I have been waiting for signs that 'Barbiecore' pink is making its way into the hair world. Going straight to 'Pink PP' inspired hair (the shade created by the Valentino and Pantone collaboration) is unlikely, so here we are seeing the beginnings of interest in the softer shades of pink. 

"As this grows in popularity and pink hair becomes less surprising to see, I feel sure we'll be seeing the super intense, saturated version of this shade. People are not afraid to go bold, and individuality in hair choice is being embraced more than ever – it's no longer seen as 'alternative'."

Ask your stylist…

"If you're already blonde, consider a temporary wash of pastel pink to dip your toe into Barbiecore. Pink tones need to be applied to lighter bases so have your stylist add highlights first if you want to try a pink shade on darker hair."

Tip:

"Pastel pink fades very quickly, so have your colourist mix you a pigmented conditioner to take home to top things up when you wash your hair. I love the Evo Fab Pro system for incredible shine and customisable tones."

3.




Retro-Futurist Slick Back

"We've seen a surge in more utilitarian hair styling on red carpets recently combined with retro-futuristic aesthetics in the form of metallics, PVC, nylon and armour-wear. The practicality of hair swept back out of the face and held in place by liberal amounts of styling product gives a very strong, statuesque appearance to the wearer and is a great high fashion choice to 'harden up' a softer outfit or make a strong statement."

Ask your stylist…

"To layer up styling product in your hair which will give flexibility and hold while retaining the slightly gritty 'wet look'. Start with a moisturising leave-in cream, such as Olaplex No.6, and layer on top serums such as Evo Love Perpetua. Avoid classic gels, which will eventually harden and set and become too stiff."

Tip:

"A red carpet secret is to use lube (yes, you read that right) as a styling product to keep your hair in place without drying out or hardening."

4.




Zinc

"It's been about five years since the huge silver-grey hair trend peaked, but with the strong 'y2k' and 'future tech' influences across pop culture right now, it makes sense that this 'futuristic' shade is gaining popularity. 

"While Julia Fox spoke of her silver-painted hair as a love letter to getting older, many people have been choosing to show their natural grey hair since leaving lockdown, signifying a sense of defiance and peace around ageing. Now that times are a little more stable and salon visits more predictable, it makes perfect sense that the enhanced silver shades are going to become more popular in 2023. A dyed zinc-silver or grey has a different characteristic to natural grey and it can look modern, striking and ever so cool."

Ask your stylist…

"Incorporating silver or grey tones in your hair can be done by enhancing the grey strands you already have, clustering silver highlights around them. Alternatively, you can have your colourist pre-lighten your hair using bleach and then add a silver toner to get the boldest effect."

Tip:

"Silver tones fade the fastest out of all the colours, so if you aren't sporting natural grey streaks, make sure you're committed to weekly toning using purple or blue shampoo or a silver toner."

5.




Bleach Barbie Blonde

"The Barbie-inspired blonde hair trend has been gaining traction since Anya Taylor-Joy and Gigi Hadid were seen sporting very long platinum locks earlier this year. With the filming of the much-hyped Barbie movie (due out in cinemas July 2023), bleached 'Barbie blonde' is going nowhere!

"The height of bright blonde hair will peak in August just after the release of the new Barbie movie, when people start to think about toning down for autumn. 

"Blonde hair can be harder to maintain during the summer months as the sun encourages fade and pool days can tarnish the tone. This bright tone will therefore gradually evolve into a slightly warmer and cosy golden shade of blonde for autumn."

Tip:

"When it comes to bleach blonde, keeping the condition of the hair healthy is essential. My top home-care combination is to use Olaplex No.3 before you shampoo, which will repair your strands on a molecular level, and swap out your conditioner for Olaplex No.8, which will deliver a surge of moisture and softness."
Main image: Getty
Source: Read Full Article