The Best Massage Guns on the Market
If you've been inside a gym or physical therapist's office over the past couple years—or scrolled through your Instagram feed—you've likely come face-to-face with a percussive massage gun. These popular tools look like power drills and are designed to aid recovery, decrease soreness and increase range of motion by pleasantly beating your muscles into submission.
When the Theragun and the TimTam Power Massager launched in 2016, they were in a class of their own above other personal massagers on the market. Rather than kneading your muscles with simple vibrations, they featured powerful percussive massage therapy, a form of deep soft tissue manipulation. Basically, they punched you. Rapidly.
After finding favor among gym-goers, CrossFitters, and NBA athletes like Kyrie Irving, the category began to expand, with several more products hitting the market. Now, options include the Hypervolt and KraftGun, plus more upstarts that seem to pop up each week. It's enough to make your head spin—which would likely cause some neck pain that a massage gun could address.
With three years on the market, the companies behind the devices are now releasing next-gen versions, like the Theragun G3 Pro, and the use of massage guns for recovery looks less like a trend and more like a practice with real staying power. Here's what you need to know about the tools so you can to incorporate them into your own routine.
Why Use a Massage Gun?
"Massage guns can be used as an alternative to the foam roller as a self-myofascial release tool," says Vinh Pham, a physical therapist and the founder of Myodetox, a manual therapy and movement clinic with locations in Canada and the U.S. He notes that benefits include everything from decreased stress, pain and tissue tension to enhanced recovery, blood circulation and range of motion.
"You can use it pre-workout to warm up the muscles and post-workout to decrease tightness and soreness," adds Pham.
Want to learn exactly how you should be using one of these buzzy tools? Check out our how-to guide for instructions for best practices before, during, and after workouts.
What to Look For in a Massage Gun
To learn more about what to look for in a massage gun, we spoke with Pham and Josh Orendorf, a physical therapist, certified personal trainer and the owner of Paceline Physical Therapy in Franklin, Tennessee.
"The three most important things for me are reliability, noise, and battery life," says Orendorf. "I need something that I know is well-made and won't malfunction during operation, especially because I'm using it on injured athletes. Noise is the next most important factor. I need to be able to talk to my athletes over the noise of the gun without yelling at them."
Pham agrees that keeping treatment quiet is a major priority. "Personally, noise to me is number one," says Pham. "I want to be able to use the massage guns in public, and having it sound like a power tool would make it unusable."
Next up is battery life, as Orendorf also can't have guns dying in the middle of treatment. He says that he expects a gun to last several full days without requiring a charge. "You'll also want to be able to throw the gun in your bag or take it on a weekend trip without worrying about finding an outlet," he says.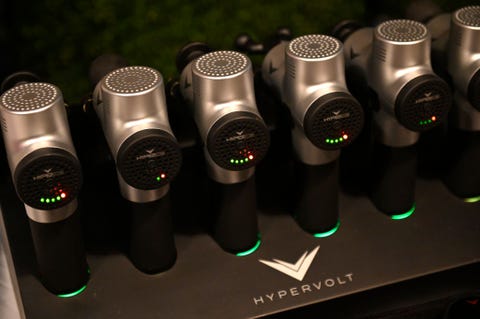 Duane ProkopGetty Images
That list of priorities remains mostly the same for at-home use. Orendorf notes that reliability is still key, and that it's worth investing in a legitimate brand with high quality standards rather than a knockoff. "Be prepared to spend at least $250 to $350 for a quality product," he says. "I would be very suspect of guns in the $100 range."
Of course, even the best guns leave room for improvement. Some options come with convenient travel cases and charging stands—something Orendorf would like to see more products offer. He also mentions that dishwasher-safe attachment heads would make for easier cleaning. And, as the market continues to progress, he hopes for smaller (yet still powerful) designs and Bluetooth app-integration.
But one of the biggest improvements the experts want to see wouldn't even come in the hardware itself. "Personally, I think they need to come with a better instruction manual," says Pham. "People would benefit a lot more from them if they knew how to use them to their fullest potential."
The Best Massage Guns, Right Now
With these priorities and wish lists in mind, the below massage guns represent some of the best options on the market.
Hyperice Hypervolt Plus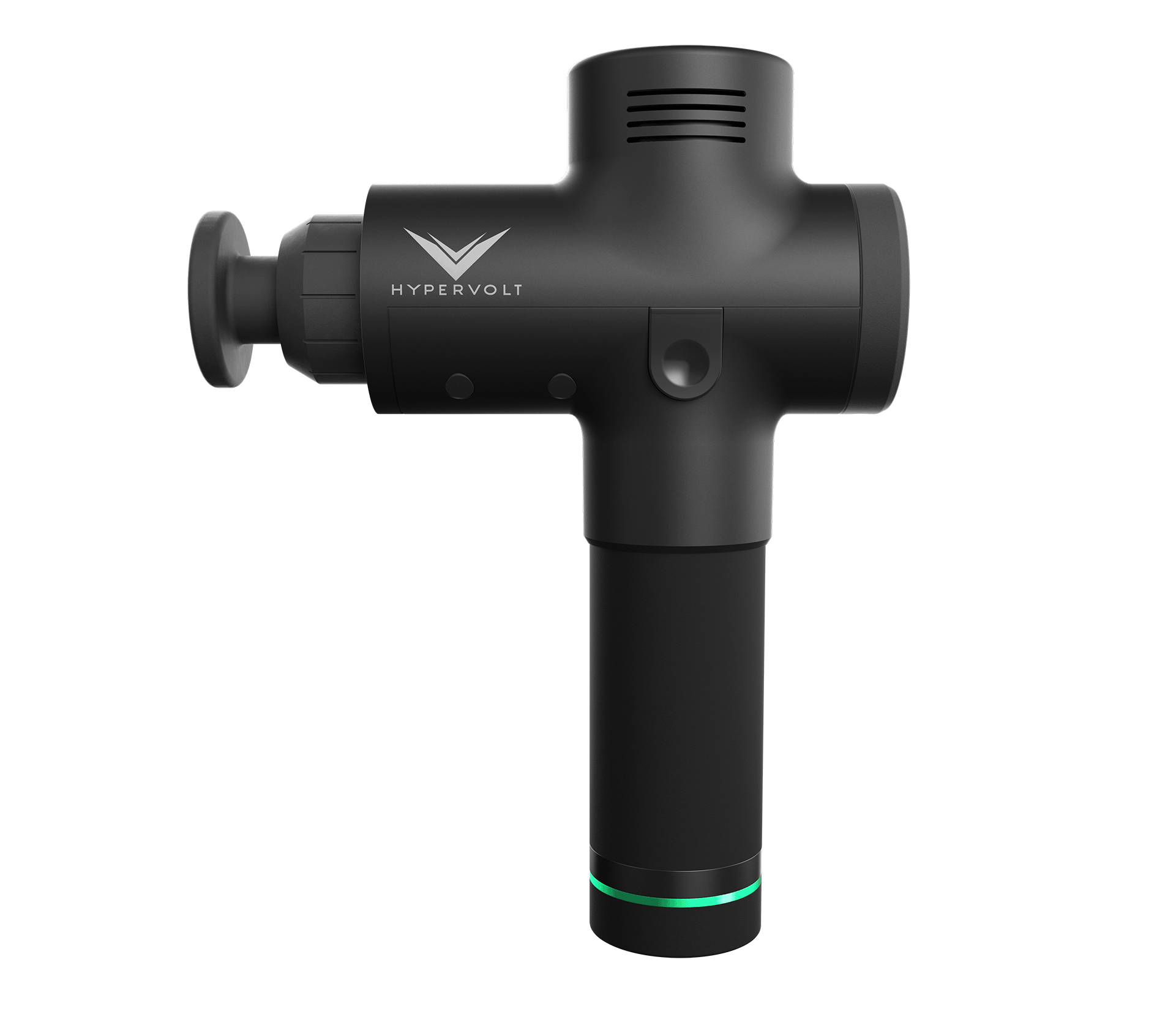 Hyperice recently announced a new gun that was developed for elite athletes and fitness enthusiasts. Dubbed the Hypervolt Plus, it drills into your muscles with 30 percent more intensity than the original.
The device still clocks in at a maximum of 3,200 percussions per minute, but each individual percussion is 30 percent more powerful to really target those sore muscles. The battery yields about two hours of use per charge and the simple, T-shaped design is comfortable to grip.
KraftGun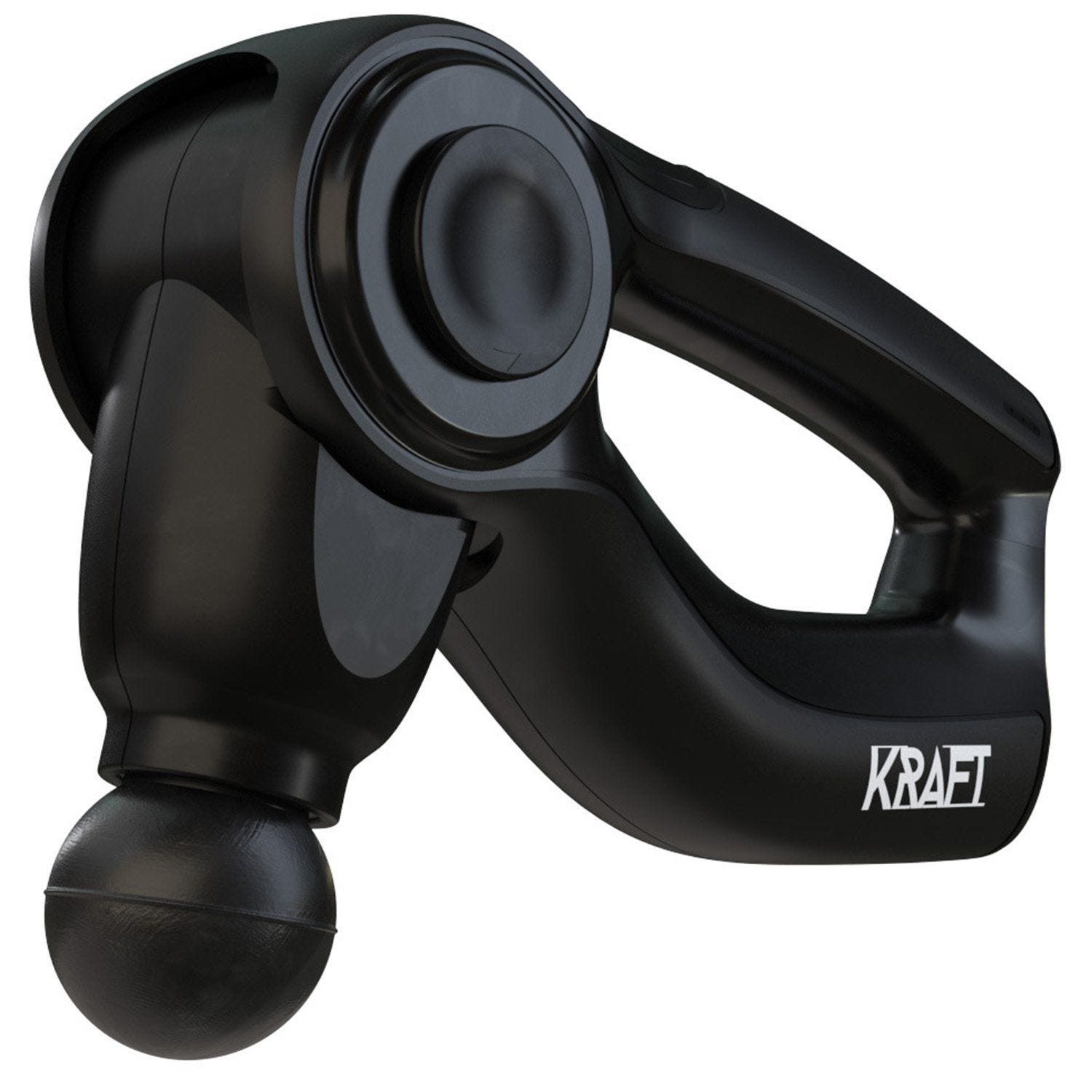 One of the newer players in town, KraftGun focused on addressing a couple of the category's shortcomings—noise and battery life. The gun's Samsung battery keeps it going for 3.5 hours on a single charge.
So, if you use it for 10 minutes per day, five days a week, that means you only need to charge it once per month. At just 2.2 pounds, it's one of the lightest and quietest guns on the market, while still offering plenty of power—it can withstand up to 80 pounds of force without stalling.
Theragun G3 Pro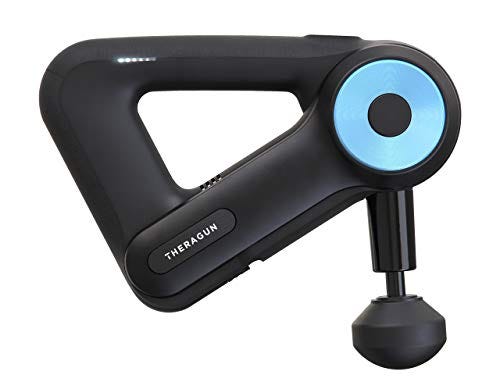 Theragun's top-of-the-line G3PRO option isn't cheap, but it gets the job done, delivering 2,400 percussions per minute. With six attachments and an adjustable arm, you can target every nook and cranny of your body. The battery only holds a charge for about 75 minutes of use, but with the option to swap out the two included batteries, you can keep using one while charging the other.
If you'd like to save some cash, Theragun also offers the more affordable G3 and liv models. They're lighter weight, look great and hit the same max speed, but they sport fewer features and assault your muscles with less force.
TimTam Power Massager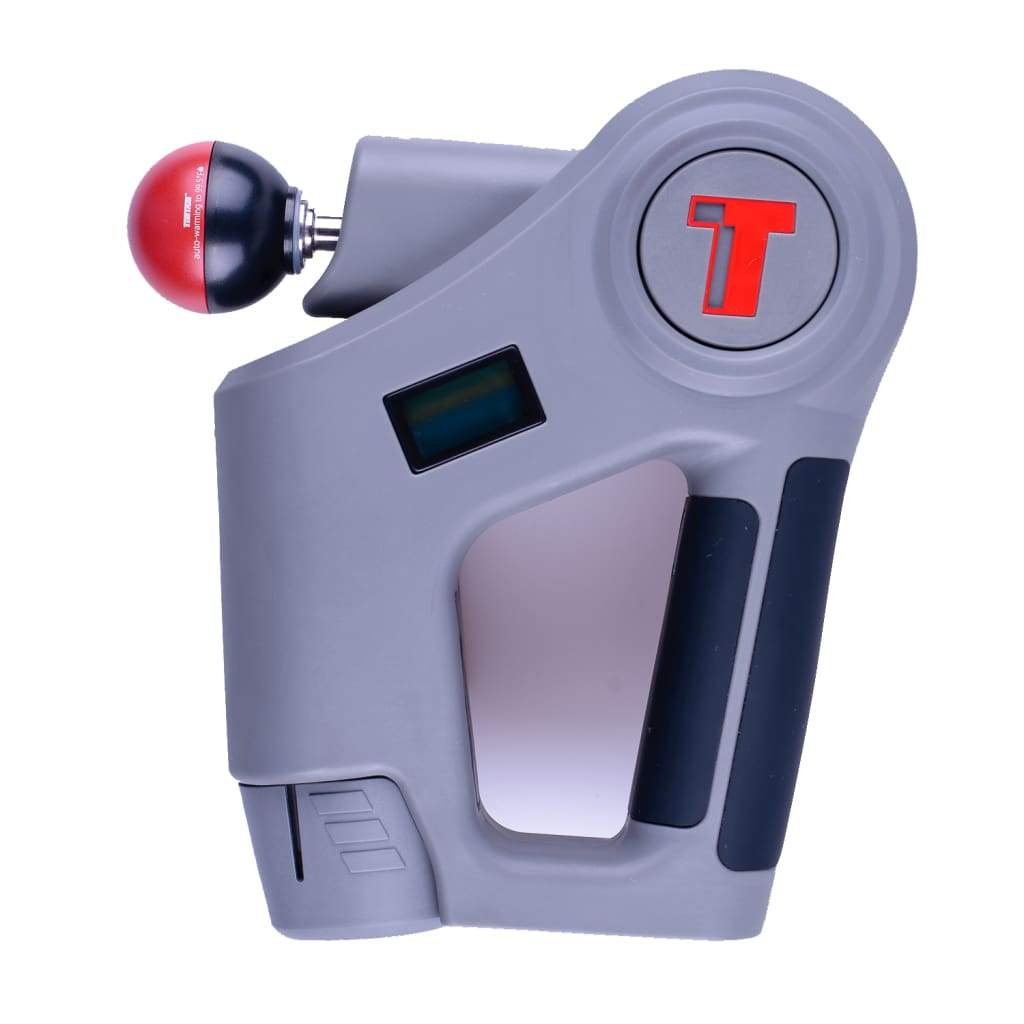 TimTam was created by MMA legend George St-Pierre and CrossFit and mobility coach Kelly Starrett—two guys who understand the importance of recovery. The Power Massager delivers percussions at a max rate of 2,500 per minute and has made significant strides in reducing noise as compared to the original. They're continuing to offer advancements, though.
The brand-new Power Massager Pro is lighter, more powerful at a max of 2,800 strokes per minute, and features a heated tip to further tame your body's soft tissue.
Source: Read Full Article