Pretty Damn Good: the vitamin C serum this entrepreneur relies on for a glowing complexion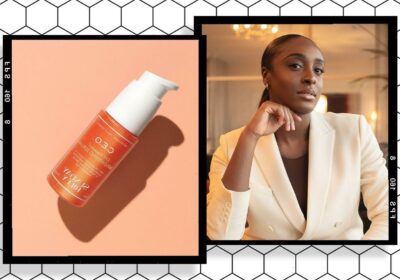 Written by Hanna Ibraheem
All products on this page have been selected by the editorial team, however Stylist may make commission on some products purchased through affiliate links in this article
Welcome to Stylist's Pretty Damn Good, a weekly series in which different women share the one product – across hair care, skincare, make-up, body and fragrance – that remains a forever staple in their beauty routines.
You've worked hard and got your dream job. For some of us, it's the start of a clear-cut path but for others, a wave of imposter syndrome can leave you questioning things. At least, this is what happened to Dior Bediako.
When Bediako graduated in 2013, she got her dream job at Burberry HQ in London but when a bout of imposter syndrome set in, she realised there weren't many resources available for her to get guidance or support. After asking around, she discovered that she wasn't alone.
So, Bediako got the idea to launch Pepper Your Talk, a one-stop platform for like-minded people and mentors to receive fashion industry advice, insights and stories.
As if that wasn't enough, she also launched The Junior Network, a membership club for young professionals, which offers all types of benefits, including development workshops, networking socials, a mentor and CV and cover letter advice. Basically, it's what we all wish we had when starting in a new industry.
When she isn't helping to drive positive change and progression in the tough fashion industry, Bediako can be found sharing insights into her work and her own chic approach to fashion and beauty on Instagram.
But as a busy entrepreneur, what's the one beauty item that Bediako relies on? Here, she tells us.
"I first discovered Sunday Riley's C.E.O. 15% Vitamin C Brightening Serum, £70, in October 2020 and have been using it lovingly (yet sparingly) ever since. Honestly, if I could only pack one product for a trip, it would be this.
"I was introduced to Sunday Riley through a friend and was really impressed by the results of various other products, which really boosted my trust in the brand. My skin is quite dull naturally so I needed something that would give it a pick-me-up without having to do a full-on chemical peel. Another friend recommended I try the brand's vitamin C serum and I've never looked back. 
Sunday Riley C.E.O. 15% Vitamin C Brightening Serum
"Everyone I asked about it (yes, I really did my research) only had good things to say about it and, to be fair, the results are undeniable. Almost immediately, my skin had a much healthier glow to it but after two weeks, I was visibly more radiant and had the confidence to wear less and less make-up.
"It took me quite a while to figure out how to layer the products in my routine and I now have a six-step process. This serum is step four and is by far my favourite out of my entire skincare routine. And, coincidentally, I'm the fourth out of six kids so I guess we're connected in weird but wonderful ways!
"It has a pump applicator and one pump tends to be enough for my whole face. My only complaint is that it's difficult to get the last few drops out of the bottle and for a product at that price point, you don't want to waste any of it.
"The consistency of the product means I don't need to put a heavy moisturiser on top in order for my skin to feel quenched. I apply a few drops of C.E.O. all over, apply my SPF and I'm good to go."
Sunday Riley C.E.O. 15% Vitamin C Brightening Serum

Petty Damn Good: Sunday Riley C.E.O. 15% Vitamin C Brightening Serum

Shop Sunday Riley C.E.O. 15% Vitamin C Brightening Serum at Cult Beauty, £70

buy now
Main image: Dior Bediako/brand
Source: Read Full Article