Jones Road has finally launched a bronzer – and we tried it first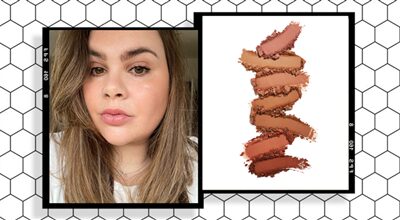 Written by Lucy Partington
Freelance beauty editor Lucy Partington is obsessed with all things skincare, collecting eyeshadow palettes that she'll probably never use, and is constantly on the hunt for the ultimate glowy foundation.
Bobbi Brown's make-up brand has finally ventured into the world of bronzer – and freelance beauty editor Lucy Partington couldn't be happier about it. 
When Jones Road finally launched in the UK, I was ecstatic. I've always been a fan of Bobbi Brown (the brand) (Vitamin Enriched Face Base, £48.50, has been one of my most-used products for as long as I can remember), so when Bobbi Brown (the person) left her eponymous company back in 2016, I was gutted, but I knew it wouldn't be long until she came back bigger and better than ever – and I wasn't wrong.
Jones Road launched with a bang in the summer of 2021, bringing with it a number of clever formulas and never-seen-before products (I'm talking specifically about The Face Pencil, £24) that I immediately fell in love with. But, in my mind, there was one thing missing: bronzer.
Now, I need to caveat this by saying that I'm fairly new to the world of sun-kissed skin. For years – perhaps even for the majority of my career in beauty – bronzer is a product that's scared me. Usually, products are too muddy-looking, too orange, not natural-looking enough. And as somebody with pale skin, I steer clear of fake tan for the same reason. But it was Victoria Beckham's Bronzing Brick that made me realise what I'd been missing, and since then I've been a convert.
I love how a quick sweep of the right (preferably matte) bronzer, either all over the face or to define cheekbones and add structure, has the ability to completely transform any make-up look, to make me look awake and alive and well-rested. But on the other hand, I know how the wrong bronzer can make me look muddy, orange and, well… a bit dirty-looking.
Jones Road The Bronzer comes in seven shades
But in true Jones Road style, and staying true to its 'no make-up make-up' approach to beauty, The Bronzer, £32, has been executed perfectly. "Often bronzers can be too dry, too orangey and way too shimmery, which makes them difficult to blend. This is not like most bronzers," says Bobbi Brown. "The Bronzer adds warmth to the skin, and can be used as an all-over skin tint, or for colour correction if your skin is looking sallow. It's minimal, quick and easy to use."
And I am inclined to agree: I've been using it since prior to its launch and, as expected, it quickly became a staple in my everyday make-up bag. Available in seven shades, ranging from a light tawny pink through to a warmer, deep bronze, the powders are truly blendable, buildable and work to add warmth and healthy-looking colour to my otherwise sallow skin, without being too much – something I'm very grateful for in this seemingly endless cold weather.
Lucy before and after applying Jones Road The Bronzer in Light Tan
I apply the shade Light Tan using the brand's Bronzer Brush, £40, but any big fluffy brush will do a similar job (I also really rate By Joy Adunega's Large Powder Brush, £24), sweeping it lightly around the perimeter of my face on top of foundation. Then I'll take a slightly smaller brush (like the blusher brush in the Hannah Martin x Ciate set), using it along the cheekbones and along my jaw to add some definition that's otherwise missing.
I love that the formula is neither shimmery nor entirely matte; instead, it has a slightly luminous finish that prevents it from looking flat and one-dimensional. Plus, the colour lasts well throughout the day, and despite being a powder formula, it doesn't sit on top of skin. Nor does it look or feel drying as some can. If you can't tell, I'm a big fan, and if you've been wondering which product to try first from Jones Road, make it this one – I guarantee it'll give even the most apprehensive make-up wearers the confidence to try bronzer.
Then, like me, you'll probably wonder why you avoided it for so long.
Shop Jones Road The Bronzer at Liberty, £32

Jones Road The Bronzer in Light Tan

buy now
Main image: Lucy Partington/Jones Road
Source: Read Full Article