For Star Choreographer Parris Goebel, Hair Is Key to Her Routines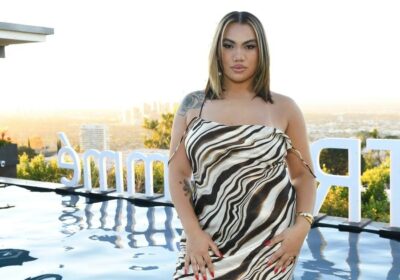 Image Source: Getty / Jon Kopaloff
Parris Goebel has a new gig, again. The star choreographer has worked with everyone from Justin Bieber to Janet Jackson and, perhaps most frequently, Rihanna. She's choreographed every Savage X Fenty show, with the third installment earning her an Emmy in 2022. Goebel was also the mastermind behind Jennifer Lopez's viral Super Bowl halftime show moves. And despite currently working on Rihanna's halftime show mere weeks away, Goebel has taken her talents underwater for Tresemmé.
Goebel was recruited by the hair-care brand to choreograph an underwater routine performed by Team USA's Artistic Swimming Team in the short film "Fluid" by Agostina Gálvez. These swimmers typically have to wear stiff gel and swim caps, but for this routine, they let their hair down with Goebel at the helm of "hairography." The film is promoting Tresemmé's new sulfate-free Pro Infusion collection emphasizing shine and fluid movement.
"Fluid" premiered on Jan. 27 at a Hollywood Hills home overlooking Los Angeles, where POPSUGAR chatted with Goebel about the partnership. The choreographer wore a zebra-print dress matching her new chunky highlights. After the film played, the swim team re-created Goebel's routine in the infinity pool, followed by performances of a few of their more typical competition routines. Goebel and the swim team's coach Andrea Fuentes watched proudly.
At the end of the celebration, we quickly chatted about what drew Goebel to the project, despite not knowing how to swim, and how hair factors into her choreography, before she was whisked away. (Late to a meeting with Rihanna, we were told.)
POPSUGAR: What new challenges came up for you in choreographing an underwater routine?
Parris Goebel: So many challenges. One, I physically wasn't able to do it myself in the water. That was really hard. I had to really collaborate with the girls and explain what I could see in my head, and hope they could transform that into a water movement.
Also, not understanding the logistics of artistic swimming, and what it takes to do what they do. As soon as we started creating, it was important that I started to wrap my head around what it takes, and the strength that it takes to do certain movements — even how long they have to hold their breath. Very quickly I realized, this is really hard. It's much harder than it looks. It was a whole new world for me.
PS: The routine you came up with felt more expressive than routines you see at the Olympics. Did the swimmers embrace that kind of movement?
PG: I think they really enjoyed it. It was something new for them. I definitely feel it was outside of their comfort zone, but they were such a treat to work with. They were so down for anything, super enthusiastic, really hardworking. But it was the opposite of what they're used to.
PS: Is there anything you learned from the experience that you'd incorporate into your routines back on land?
PG: Not "on land." It definitely made me more curious to do more choreography in the water and underwater.
PS: What role does hair and its movement typically play in your choreography? We can't help but think about J Lo's big hair and the way it moved during her Super Bowl halftime show.
PG: Hair itself reacts to your movement and the way the body moves. Even if you're walking down the street, your hair moves a certain way. So, when you dance, your hair reacts to the movement. Most of the time I do like to have my hair out when I dance, because I love to see how the hair moves depending on how my body is moving. Hair is already a big part of dance and movement itself, and in adding the element of water, it just made it really unique and fresh.
PS: Which hairstyle makes you feel most powerful?
PG: I would say my natural hair. I have naturally curly hair, and I feel most powerful and most beautiful when I just wash my hair, shower, and just let it air dry and go to rehearsal. It's very untamed and big, but it just makes me feel my most authentic self.
Source: Read Full Article