Estée Lauder has launched an app that helps people with visual impairments to apply make-up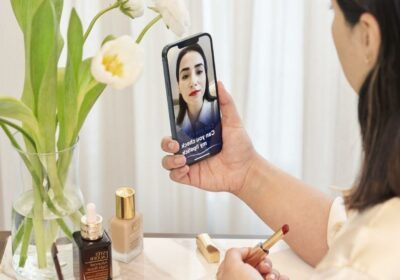 The app uses AI technology to help users apply foundation, lipstick, blusher and eyeshadow more confidently.  
Last week, L'Oreal announced the launch of its motorised make-up applicator, designed to help people with limited mobility. Now, Estée Lauder has unveiled a new app that uses artificial intelligence technology to help people with visual impairments to apply their make-up more easily. 
The voice-enabled make-up assistant (VMA) is a first-of-its-kind, AI-powered app – currently only available through Apple and via esteelauder.co.uk in the UK – that promises to help support the visually impaired community. The NHS estimates that there are more than 2 million people living with sight loss in the UK, with 340,000 registered blind or partially sighted.
To develop the app, Estée Lauder worked together with consumers with visual impairments and found that there was a need for this technology, not only to empower people but also to provide more independence for people to apply make-up with confidence. 
VMA uses smart mirror technology developed with machine learning, and it works with the phone's front-facing camera alongside voice instruction technology. Completely free, I downloaded the app – please note I am absolutely not the target audience and we'd love to hear from visually impaired users who have tried it (feel free to email [email protected] with your thoughts) – and was pleasantly surprised. VMA first explains that it will help guide me through the application process, including any recommended touch-ups along the way. So it can properly evaluate the make-up, it suggests starting with foundation, followed by eyeshadow and lipstick.
It requests good lighting, preferably using a ring light, but I just stood in front of a window. Once make-up is applied, the app scanned my face and audibly told me which areas – if any – needed reviewing. For example: "I detected one area for you to review. On your lower lip, there's extra coverage beyond the right section."
Stylist tries Estée Lauder's VMA app
My foundation application was flagged, but I think that had more to do with the hair either side of my face. I also purposely applied lipstick over my lipline (on the top right and bottom left) to see if this was picked up. It was, but only in one area – but this is only the first iteration of the app, so over time I'm expecting the technology will become even more precise. 
Talking about the launch, Michael Smith, chief information officer at The Estée Lauder Companies said: "We are thrilled to bring the experience of independently applying make-up to the millions of people that are visually impaired. Technology is a powerful tool to drive inclusion and we are delighted to be first to market with this pioneering app."
There are plans to launch it in the Google Play store within a year and across other Estée Lauder-owned brands in future. The brand also says it will be working to update the app's capabilities, with an overall goal of improving its features and introducing new ones, including make-up education and providing different looks to choose from.
Beauty without boundaries should already be more commonplace than it is, but it's steps like these – which are slowly removing accessibility barriers – that ensure make-up without limitation is something we're all free to enjoy no matter what. Plus, if the cut-curb effect is anything to go by, this, along with other advancements, is something that has the potential to help make the lives of other communities easier, too.
Main image: Estée Lauder
Source: Read Full Article