Colourpop's Sale Is So Good, You'd Swear It's Already Black Friday — Here's What to Get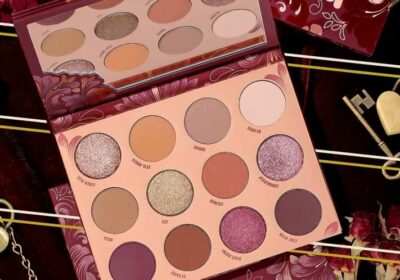 Colourpop is known for its super affordable yet high pigmented and long-wear makeup. When the brand launched in 2014, its hero product was the $8 high color payoff and moisturizing Lippie Stix. Seven years later and the brand has a head-spinning number of products and collaborations (almost) all of which are 25 percent off from today until October 26. 
I tried to calculate roughly how many products Colourpop has in its arsenal right now, but I have not had to do that much math since college. Suffice to say there is a lot — so much so that trying to make quick decisions while shopping can be overwhelming. As a long-time connoisseur of the brand, I have 10 recommendations, however — the cream of the crop. Think of this as a cheat sheet to the brand, and also to the current sale, so you don't end up with should-have bought remorse. 
Most of the website is on sale, but there are a few exclusions — the NBA, Hocus Pocus, and Lucky Penny collections, as well as any already discounted items. 
Shop The Colourpop Picks
Bring The Heat Lippie Pencil Vault, $21 (Originally $28) 
Sweet Talk Shadow Palette, $14 (Originally $18)
Colour Stix, $5 (Originally $6)
Lip Stain, $6 (Originally $8)
So Juicy Plumping Gloss, $6 (Originally $8)
Lip Crème, $6 (Originally $8)
Super Shock Shadow, $5 (Originally $6)
Super Shock Blush, $6 (Originally $8)
Super Shock Highlighter, $6 (Originally $8)
Sol Face & Body Highlighter, $11 (Originally $14)
Related Items
Bring The Heat Lippie Pencil Vault
Lip products are where Colourpop started, and it's still where the brand still reigns supreme. The Lippie Pencil lip liners glide on like butter and are super pigmented without any feathering or bleeding throughout the day. This vault of ten lip liners is a curated selection of classic reds, burgundys, and browns that play as well applied solo as they do under contrasting lipstick for an ultimate '90s look. 
Sweet Talk Shadow Palette
Sweet Talk is the beauty brand's most popular palette ever and I can tell you why. "Neutral" everyday palettes tend to veer on the darker side. There are usually around three to four shades that are deep and dark and require a level of skill that I, as a seasoned beauty writer and obsessive, do not even have. The shades in this palette are coral, brick, and gold/peach glitter, which you will use over and over. 
Colour Stix
I think of the Colour Stix as being the eyeshadow equivalent of the brand's signature Lippie Stix. It's a versatile one-and-done situation that requires nothing other than the pen product. Swipe all over the eyes for an easy eyeshadow look or make the most of the precision of the pen by creating graphic lines.
Lip Stain
Colourpop's Glossy Lip Stains are always selling out. If you find the shade(s) you're looking for, exercise no caution and add to cart. This stain starts out as a subtle gloss and throughout wear, sinks into the lips to give your pout a naturally-vibrant pop of color. The formula is also hydrating, it doesn't require a lip balm topper. 
So Juicy Plumping Gloss
I credit Megan Thee Stallion and Gen Z TikTokers for the revival of early 2000s lip gloss. It's a thick, slick, glossy texture that plumps your lips using peppermint, which also leaves behind a pleasant smell. Wear it lone for a subtle hint of color and super-shine or on top of a lip liner to create a glossy effect. 
Lip Crème
In 2021, lip products just have to do more. Pigment or innovative finish should not compromise hydration and moisture. Colourpop's Lip Crème is a master lesson in lip products 2.0. The texture is like fluffy whipped butter that delivers matte pigment. This is a buildable formula, so while you can apply it lightly for a light wash of color, layering it will give you a more va va voom effect.
Super Shock Shadow
The Super Shock shadows are a heritage item for the brand (along with the Lippie Stix). These eyeshadow pots come in a range of high pigment colors, including some Studio 54 level glitters. These are beloved for each shadow's unexplainable "bouncy" texture and incredible price point. Pro tip: Apply with a slightly wet brush or your finger for a super bold swipe of color. 
Super Shock Blush
Due to the success of the Super Shock Shadows, there is now an entire Super Shock line, which delivers the same bouncy formula and unbelievable pigment in other product types. Despite the name, this blush is fuss free and easy to apply. Once swiped onto the cheeks, the color melts into your skin, making it look like a natural flush of color. And because of the pigment of this blush, and most Colourpop products, a little goes a long way. So the pan will last you eons. 
Super Shock Highlighter
Across the different shades of Colourpop's Super Shock Highlighter are over 1,000 five-star reviews. The highlighter has a creamy formula and bright finish if applied with a heavy hand. But if you dab it on your fingertips and gently press into your face, you can achieve a natural looking, light-catching dewiness. 
Sol Face & Body Highlighter
Body glitter is a seemingly polarizing product but once again, thanks to the revival of the Y2K aesthetic, it is back in vogue and back on shelves. Brush this on heavily while wearing a nape and collarbone bearing top, sheer top, or if you're going to be in the sun. The effect is an effervescent lit-from-within glow. 
Source: Read Full Article