Ariana Grande's "Always" Tattoo Just Underwent a Transformation
Ariana Grande's "Always" Tattoo Just Underwent a Transformation

Ariana Grande is "evolving" an old tattoo. The "Always" text she has written on her ribs now sits on the stems of leaves sprouting from the center of her abdomen. The updated version of her tattoo is placed below her "Belissima" one and is the latest in a string of new tattoos (including a massive crescent moon on the back of her hand).
The megastar noted in her post that she isn't trying to hide the original ink (which is reportedly in Pete Davidson's handwriting). She captioned her photo, "Post run thrus, 3 am with @girlknewyork 🙂 not a cover up just evolvin ?."
Ahead, see her tattoo transformation.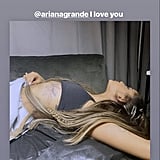 Source: Read Full Article