Amazon Just Launched a Massive, Month-Long Beauty Sale — Here Are the 40 Best Deals to Shop Today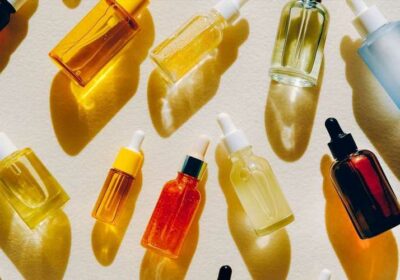 If you've started to re-emerge from your home over the past few months, you may have noticed that your beauty stash could use a refresh. After a year and a half of staying at home in sweats, it makes sense that your skin care, makeup, and hair products aren't up to speed. Luckily, Amazon just launched a massive month-long beauty sale, and it's full of incredible deals on brand-name products.
Over the course of the next few weeks, Amazon will release new beauty deals each day, and we'll find the best skin care, makeup, hair care, and nail care for you to shop for yourself or store away as holiday gifts. Today, we're starting off strong with 40 can't-miss beauty deals, starting at just $5.
In the skin care section, you'll find high-quality basics for less, like the fan favorite TruSkin Vitamin C Serum for $19 and the IT Cosmetics Confidence in a Cream Facial Moisturizer for $34. For makeup, you can get an entire Urban Decay Eye Makeup Set, which includes the Naked3 Eyeshadow Palette and two waterproof eyeliners, for 40 percent off. The sale also includes the IT Cosmetics Supersize Bye Bye Under Eye Concealer and Heavenly Luxe Complexion Perfection Concealer Brush Set for half off. 
Moving on to hair care, Hailey Bieber's go-to IGK Beach Club Texture Spray is on sale for $22. And in the nail department, you can grab the OPI Nail Envy Nail Strengthener for 33 percent off and the OPI Nail and Cuticle Oil for $8.
Many of these deals will only last through today, so be sure to grab your favorites now, and check back every day this month for more standout deals from Amazon's Holiday Beauty Haul. 
Shop Skin Care Deals
Swissokolab 24k Gold Eye Masks for Dark Circles and Puffiness, $11 (Originally $13)
TruSkin Vitamin C Serum, $19 with coupon (Originally $30)
St. Tropez Gradual Tan Everyday Body Moisturizer, $21 (Originally $25)
I Dew Care Vitamin To-Glow Pack Skin Care Set, $21 (Originally $25)
Vichy Normaderm PhytoAction Acne Control Daily Moisturizer, $24 (Originally $30)
IT Cosmetics Confidence in a Cream Facial Moisturizer, $34 (Originally $49)
Korres Wild Rose Night-Brightening Sleeping Facial, $36 (Originally $48)
Coola Organic The Great Barrier Cream Moisturizer, $41 (Originally $48)
IT Cosmetics Hello Results Wrinkle-Reducing Daily Retinol Serum-in-Cream, $42 (Originally $69)
Elemis Pro-Collagen Tri-Acid Peel, $73 (Originally $110)
Shop Makeup Deals
Almay Thickening Mascara, $5 (Originally $7)
Haus Laboratories Le Riot Lip Gloss, $9 (Originally $18)
Real Techniques Makeup Brush Set, $10 (Originally $20)
Haus Laboratories Glam Room Eye Shadow Palette, $17 (Originally $34)
Grande Cosmetics GrandeLIP Lip Plumper and Lip Gloss, $19 (Originally $27)
Revlon Super Lustrous The Gloss 5-Piece Lip Gloss Set, $22 (Originally $32)
Urban Decay All Nighter Ultra Matte Setting Spray 2-Pack, $29 (Originally $49)
IT Cosmetics Eye Makeup Set, $33 (Originally $55)
Urban Decay Eye Makeup Set, $44 (Originally $74)
IT Cosmetics Supersize Bye Bye Under Eye Concealer + Heavenly Luxe Complexion Perfection Concealer Brush Set, $45 (Originally $90)
Shop Hair Care Deals
Joico PowerSpray Fast-Dry Finishing Spray, $13 (Originally $19)
Joico JoiWhip Firm Hold Designing Foam, $13 (Originally $19)
R+Co Cool Wind pH Perfect Air Dry Crème, $20 (Originally $29)
IGK Beach Club Texture Spray, $22 (Originally $31)
Color Wow Root Cover-Up, $24 (Originally $35)
Redken All Soft Shampoo and Conditioner for Dry and Brittle Hair, $28 (Originally $40)
KMS Moisturize + Condition Shampoo and Conditioner Duo, $32 (Originally $46)
Pureology Hydrate Sheer Shampoo and Conditioner for Fine, Dry, Color-Treated Hair, $44 (Originally $63)
Grande Cosmetics GrandeHAIR Hair Enhancing Serum for Thicker and Healthier-Looking Hair, $46 (Originally $65)
Oribe Dry Texturizing Spray Set, $53 (Originally $75)
Shop Nail Care Deals
OPI Nail and Cuticle Oil, $8 (Originally $10)
Essie Gel Couture Platinum Grade Finish Top Coat, $8 (Originally $12)
Essie Nail Polish, $8 (Originally $9)
OPI Nail Envy Nail Strengthener, $12 (Originally $18)
Smith & Cult Nail Polish, $14 (Originally $18)
OPI Base Coat & High-Gloss Shine Top Coat Bundle, $15 (Originally $21)
Ahava Mineral Foot Cream, $22 (Originally $34)
Ahava Dermud Intensive Hand Cream, $23 (Originally $31)
Baby Foot Original Foot Peel Exfoliator, $25 (Originally $30)
CND SolarOil Nail & Cuticle Care, $35 (Originally $50)
Source: Read Full Article