16 clever beauty must-haves that will make festival packing a breeze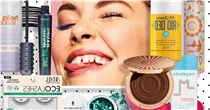 All products on this page have been selected by the editorial team, however Stylist may make commission on some products purchased through affiliate links in this article
Whether you're jetting off to a festival abroad or getting glam for Glasto, we've rounded up the festival beauty essentials that will make your trip a lot easier.
After a couple of years' hiatus, festival season is back and bigger than ever. Which means when it comes to festival beauty: we're making up for lost time. After all, there's no better time to get dressed up and go all out than when you're heading to a festival with friends. But anyone who's ever stayed two-nights in a campsite will know, the reality of festival beauty is often not all that it's cracked up to be. 
Whether it's the shared shower cubicles or no-privacy portaloos, freshening up at a festival isn't always a glamorous job. Luckily for you, we've rounded up some brilliant new beauty products that are perfect for festivals – whether you're glamping or not. 
You may also like
Festival fashion really can be sustainable, and this is how
From clever dry shampoo cloths and anti-chafing thigh cream to biodegradable body glitter and glow-giving face mists, these are the 16 beauty essentials you need to know about before heading off to a festival this summer…
Your 2022 festival beauty packing list
Sam McKnight Dry Shampoo Cloths

These clever cloths are perfect for refreshing your hair on-the-go. Brimming with hair-loving ingredients (and boosted with Sam's signature scent), they're designed to instantly refresh and mop up excess grease along the hairline, fringe or roots. Plus, each cloth is made from tree pulp cellulose that's certified compostable and biodegrades in just 6 weeks.

Shop Sam McKnight Dry Shampoo Cloths, £17


buy now

Benefit Badgal BANG! Volumizing Waterproof Mascara

A waterproof mascara is a must-have at a festival. After all, weather is unpredictable and who knows if you're going to weep at Harry Styles' Glastonbury set? This volumising mascara from Benefit is one of the best – thanks to its ability to add serious length, lift and major va-va-volume.

Shop Benefit Badgal BANG! Volumizing Waterproof Mascara, £24.50

buy now

Amika Top Gloss Shine Spray

Want a sure-fire way to guarantee a good hair day? Add a shine spray. This lightweight and nourishing mist helps to revitalise dull and lacklustre hair leaving your locks glossy-looking and salon-worthy in an instant.

Shop Amika Top Gloss Shine Spray at SpaceNK, £22

buy now

Ardell Eco Strip Lashes

If you're a false lash wearer, you need to try Ardell's new ecolashes. Handmade using natural fibers of staggered lengths, they mimic your natural lash pattern for an ultra-natural finish. Plus, the new organic cotton band means they're super comfortable to wear all day (and night) long.

Shop Ardell Eco Strip Lashes at Feelunique, £5.95


buy now
BaByliss 9000 Cordless Waving Wand

Can't leave home without a hair tool? BaByliss has you covered. This cordless waving wand makes styling on-the-go simple and with 40-minutes of continuous use, you're bound to have plenty of time to style your hair again and again. It's also super lightweight so won't add loads of weight to your bag. 

Shop BaByliss 9000 Cordless Waving Wand at Boots, £179.99


buy now

Charlotte Tilbury Beautiful Skin Sun-Kissed Glow Bronzer

When it comes to faking a glow on-the-go, nothing quite does the job like a brilliant bronzer. This new formula from Charlotte Tilbury is perfect for giving your skin a really natural-looking boost – plus you can use it on your body too. It has a unique cream-to-powder formula that effortlessly melts into the skin, leaving your skin nourished and golden. 

Shop Charlotte Tilbury Beautiful Skin Sun-Kissed Glow Bronzer at Selfridges, £42


buy now

In Your Dreams Aqua Trip Biodegradable Glitter

If you're going to do glitter: make sure it's biodegradable. In Your Dreams use plant-derived materials, rather than polyester, which are proven to biodegrade into harmless substances in the natural environment. Phew. 

Shop In Your Dreams Aqua Trip Biodegradable Glitter, £6


buy now

Bloomeffects Tulip Tint Lip & Cheek Balm

When it comes to festival beauty, multi-use products are your best friend. This gorgeous lip and cheek tint not only gives your complexion a pop of brightening colour but acts as a healing balm – soothing, nourishing and repairing the skin's barrier. Seriously impressive. 

Shop Bloomeffects Tulip Tint Lip & Cheek Balm at Feelunique, £27


buy now

Jo Malone London Salty Amber Cologne

No one wants to carry around a hefty bottle of perfume with them at a festival which is why Jo Malone London's limited edition 30ml fragrances are perfect. This salty amber scent smells like a wild summer festival – blending fresh mandarin with lemon and cedarwood. Gorgeous. 

Shop Jo Malone London Salty Amber Cologne at Selfridges, £56

buy now
Hello Sunday The Retouch One Face Mist SPF30

Perfect for topping up your sun protection on-the-go, this handy SPF mist can be applied over make-up to protect against UV rays, infrared rays, pollution and blue light. It's an ideal summer handbag essential. 

Shop Hello Sunday The Retouch One Face Mist SPF30 at Space NK, £18


buy now

Iconic London Prep-Set-Glow

This brilliant facial mist not only acts as an on-the-go skin refresher but injects your complexion with serious glow. Mist over your face, chest, arms and legs for dewy shine, on-the-go hydration and glimmering goodness. 

Shop Iconic London Prep-Set-Glow, £22


buy now

Megababe Thigh Rescue

If you haven't yet discovered this cult anti-chafing cream – get ready to thank us. The no-mess, anti-friction balm can be applied anywhere that chafing is a problem to form a protective barrier that makes for a smooth glide. A real festival hero. 

Shop Megababe Thigh Rescue at Cult Beauty, £8


buy now

WooWoo Soothe It! Chamomile and Aloe Vera Intimate Wipes

They might not be the sexiest of packing essentials but these chamomile and aloe vera intimate wipes are great for when you want to freshen up on-the-go or are forced to deal with any unexpected period surprises. After all, it pays to be prepared. 

Shop WooWoo Soothe It! Chamomile and Aloe Vera Intimate Wipes at Feelunique, £2.25


buy now

Sol De Janeiro Rio Deo Aluminum-Free Deodorant

Treat yourself to a deodorant that smells as good as a festival fragrance this this aluminum-free deo. The 98% naturally derived formula is infused with a summery, pistachio and salted caramel fragrance, that'll leave you feeling fresh and confident.

Shop Sol De Janeiro Rio Deo Aluminum-Free Deodorant at Lookfantastic, £14


buy now
Barry M Biodegradable Body Glitter

These convenient glitter pots make transportation quick and easy, meaning you can do glitter for top-ups on the go with a reduced risk of spillage and mess. 

Shop Barry M Biodegradable Body Glitter at Lookfantastic, £4.49


buy now

Ultra Violette Fun Sized Future-Proofers

With miniature versions of Ultra Violette's Queen Screen Lightweight Skinscreen SPF50+ (which is shimmery and glow-giving), Supreme Screen Hydrating Facial Skinscreen SPF 50+ (perfect for thirsty skin types), Lean Screen Mineral Mattifying Fragrance Free Skinscreen SPF50 (ideal for oily areas), Clean Screen Fragrance Free Sensitive Facial Skinscreen SPF 30 (great for sensitive skins), plus Sheen Screen Hydrating Lip Balm SPF50 to keep your lips protected – this SPF set prepares you for every festival weather eventuality.

Shop Ultra Violette Fun Sized Future-Proofers at Cult Beauty, £50

buy now
Main image: courtesy of brands
Source: Read Full Article