10 Coolest Celebrity Kitchens
Celebrities spare no expense when designing their multi-million dollar homes. They are decked out in the finest décor, with the most cutting edge technology and security features that money can buy. The rich and famous are known to entertain lavishly, and frequently, with the finest food to tantalize every palate.
RELATED: The 10 Best French Door Refrigerators of 2019
Since we all know that most parties end up in the kitchen, it isn't surprising that celebrity kitchens are designed to impress. They are truly a reflection of the host in the way they're created. Some are minimalistic with clean lines and a simple approach, while others are loud and boisterous, with the use of bright colors and busy patterns. Let's take a look at the 10 coolest celebrity kitchens.
Click the button below to start this article in quick view
10

Alec Baldwin
Alec Baldwin and his wife Hilaria take a much more "comfortable and breathable" approach to their home décor. Their kitchen resembles that of most "normal people" with a very lived-in appearance all-round. For a wealthy power couple, they seem less concerned with leading technology and opt for more natural and cozy kitchen elements.
Most celebrity kitchens keep everything tucked away and the countertops are bare and exposed. This kitchen is very different and appears more naturally functional with knives and spices readily available and on full display. There is nothing stifling or uptight about the design.
9

Beyonce
Talk about a unique twist on a kitchen. This one is on a yacht! It's not just a regular yacht, either, it's Beyonce's birthday yacht, gifted to her by her hubby Jay-Z. The price tag of this yacht will make your jaw drop – he spent a cool $70 million to buy this beast. The kitchen is definitely a majestic wonder. It's designed to accommodate up to 12 guests and 13 service members, because of course, hosting on the yacht means churning out the very best of everything!
RELATED: 10 Celebrity Kitchens That Resemble Their Owners
Pots and pans are hung, chef-style across the stainless steel backslash of this stunning kitchen. Red-accented bar stools make it cozy and warm and offer a full view of the restaurant-style warmers and ovens. This is the perfect space to create edible masterpieces for guests to enjoy while cruising across the ocean.
8

Bill & Giuliana Rancic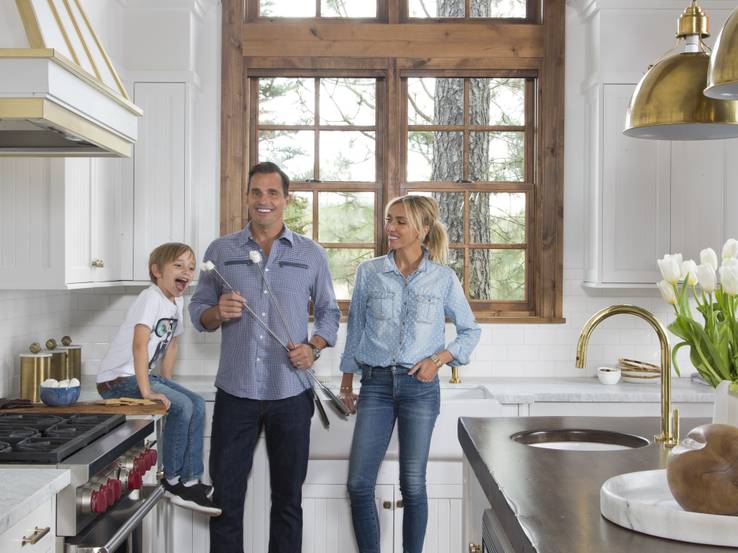 Bill and Giuliana Rancic own a stunning 4,900 square-foot vacation home in Idaho which features cathedral ceilings and a breathtaking view of the lake. Their design choice is the perfect mixture between lavish and homey, with some high-end statement pieces along with some cozy décor that blends perfectly with their stunning view of the water.
Their kitchen is decked out in crisp white, with stunning natural wood accents that are a perfect fit for the natural environment which surrounds them. Overhead lighting and a modern gas-stove are both functional and decoratively stunning. They had a custom round sink installed which really stands out as a unique kitchen feature.
7

Cameron Diaz
Cameron Diaz purchased a stunning 2-bath apartment in Manhattan's West Village back in 2008 for a cool $3 million. Designed by Kelly Wearstler, this home boasts very bold, unique, high-impact colors and features. The kitchen features stunning ebony-stained oak floors and has a cutting edge Miele dishwasher installed. In her gorgeous kitchen, Cameron has a Sub-Zero refrigerator & freezer, a Viking range, and a customized (and very expensive) water filtration system. The most unique and super-cool features of her kitchen lie within the cabinetry and fine aesthetic details.
RELATED: 10 Richest Family Dynasties In European History
The emerald-colored cabinets are bright and really pop against her customized and perfectly crafted brass backsplash. Each cabinet features brass accent lines, and her sink and handles are all brass as well. The counters (you guessed it) are also brass! This one-of-a-kind kitchen puts a modern twist on a vintage design, and we simply can't get enough of its beauty.
6

Courteney Cox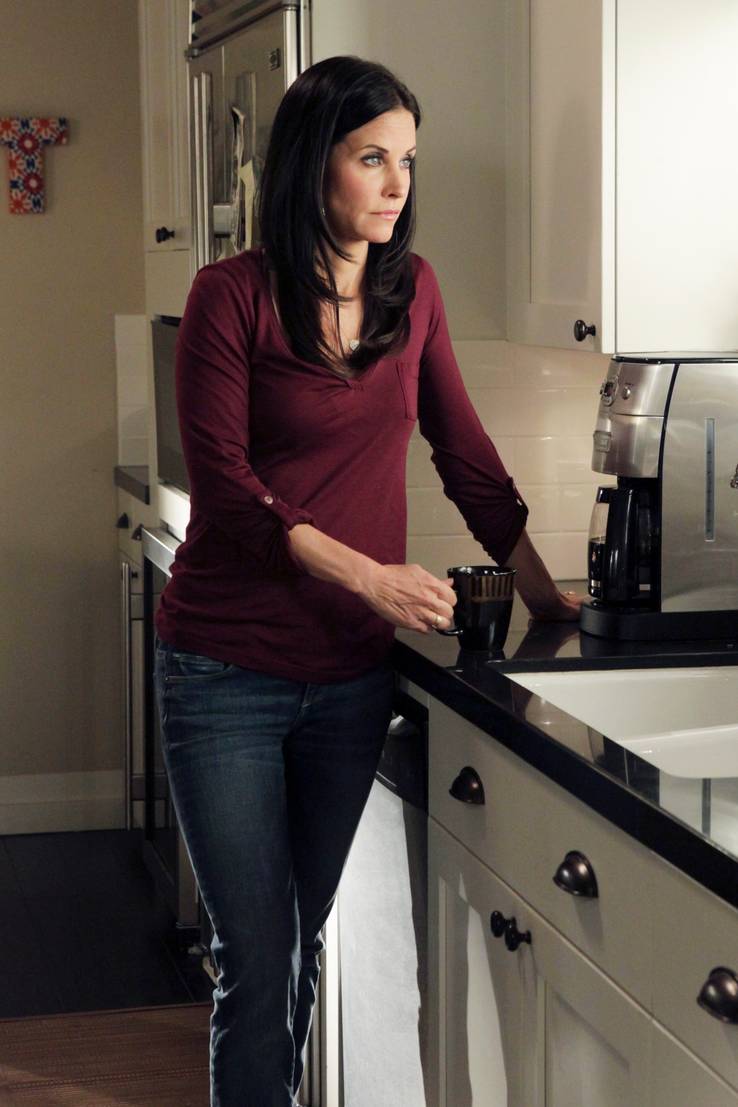 Courteney Cox loves her kitchen. She spends time entertaining in it and loves to have her friends congregate within her kitchen space to share stories and enjoy one another's company. She fosters the belief that the kitchen is a meeting space, for gathering and being comfortable, and careful care was taken in the design of this space, to ensure it was welcoming and comfortable.
Neutral colours were paired with oversized handles and knobs, to make everything accessible. There's nothing pretentious about this space. The best way to describe it is to say it's a professional, chef-grade kitchen that's decorated to feel cozy, homey, and comfortably livable.
5

Felicity Huffman
Felicity Huffman is seen here lying down comfortably on the oversized counter in her gorgeous kitchen…and look how much space is leftover! The counter space in her kitchen is abundant, and she opted for chunky white designs to accentuate the vastness of this space.
Her drawers are as oversized as her counter space, and storage is never going to be an issue in this kitchen! She has two levels of cabinetry aligned on the wall to store every imaginable piece of stemware and various spice items. Similar to other celebrities, she's opted for the white and stainless steel motif, giving her kitchen space a crisp, clean feeling.
4

Jennifer Lopez
Jennifer Lopez owns a massive 6,500 square foot penthouse which overlooks Madison Square Park. This incredible $26.5 million property has an additional 3,000 square feet of outdoor space spread between the 4 terraces. Her kitchen is as fabulous as the rest of her house is. With massive 12-foot ceilings and wide-plank oak floors, it looks more like a showroom in a high-end store, than a livable kitchen space.
RELATED: 10 Movie Star Power Couples That Are Worth A Fortune
Restaurant-style oversized stainless steel fridges are located along the main wall, with plants scattered throughout the space. The otherwise pristine white and oak look is made cozier with the use of wooden bar-stools which are placed around the island. The overhung plants and glasses are a nice touch to making this kitchen feel welcoming and warm.
3

Kourtney Kardashian
In true Kardashian fashion, Kourtney Kardashian's kitchen theme seems to be "the bigger the better." This massive space has not one, but two centre-islands, and pendant lighting throughout. Wooden ceiling accents make this space more intimate, giving it a country, homey feeling that balances out the otherwise massive space. This proud and loving mama has her children's artwork on perfect display which makes this space look comfortable despite its significant size.
RELATED: 10 Celebs Who Get Paid The Most Per Instagram Post
Plants and other decor accents are strewn about the space, with bar stools perfectly tucked into the nooks of the kitchen island. Every square inch of this kitchen is designed with storage in mind, with ample drawers and oversized storage spaces at every turn. Kourtney's kitchen is impressively organized, warm, and comfortable, and spares no expense in its design.
2

Lady Gaga
Lady Gaga's kitchen is the definition of cool. There is nothing pretentious about it. The space is incredibly comfortable, casual, and as funky as she is. While some celebs have tried to impress by keeping up with modern styling choices for their homes, Lady Gaga has stayed true to her roots and her eclectic kitchen space is a reflection of her personal taste. The wicker motif she selected looks cozy and relaxing, and we love the shelf of cookbooks lined perfectly within the center island.
Her exposed wood table is large and sits high-up, giving you a restaurant-feeling. Views of the ocean can be seen from the kitchen table, and the exposed wood theme gives you the sensation of being outside. The backsplash is bright and refreshing, and we couldn't imagine a better space to be inspired and to greet guests.
1

Taylor Swift
Taylor Swift's kitchen is much more comfortable and casual than some of the others that we've seen. Her exposed cabinets give us a sneak peek into the style of cups and mugs she prefers to use, which enhances the intimacy of the experience. The coolest thing about Taylor's kitchen is that she stores one of her six VMAs right next to her coffee maker! The Moon Man just sits there, overlooking everything in the kitchen, and acts as a constant reminder of her overwhelming success.
When Taylor and Calvin Harris were together, she had plastered a picture of the two of them on her kitchen sink counter! It's clear that to Taylor Swift, the kitchen is more than just a place for cooking and eating, it's a place where memories are made, shared, and remembered fondly.
NEXT: Gordon Ramsay Net Worth
Tags:kitchens
Source: Read Full Article