​​Devastated Charlotte Dawson hits back at mum-shamers after 'feeding her baby gravy' | The Sun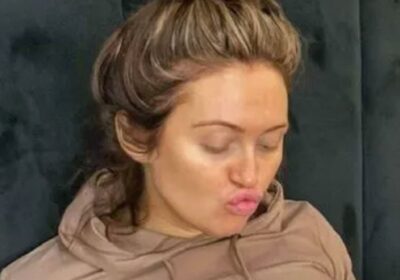 CHARLOTTE Dawson has hit back after coming under fire from mum-shamers for joking she was feeding her baby gravy.
The pregnant reality star posed with a tray of chips soaked in sauce with her bump on show.
Blackpool-based Charlotte, 30, wrote: "Feeding bumpalicious chips n gravehhh it makes us happen."
But there was a strong reaction – with some even warning Charlotte she would suffer gestational diabetes, which she had when was pregnant with son Noah, two.
She addressed the row in a new interview where she told her critics: "Chuff off."
Speaking to New, she said: "I posted a picture on social media where I joked I was feeding the baby with chips and gravy and people said: 'You really need to be careful with what you're putting in your body.'
More on Charlotte Dawson
Pregnant Charlotte Dawson confirms baby's gender
Charlotte Dawson wows in lingerie for Valentine's Day after major weight loss
"One warns: 'Make sure you eat healthy this time round,' while another one writes, 'Here comes your gestational diabetes again.'
"It's pathetic, I'm trying to eat healthier, but if I want bloody chips and gravy, I'll have it!
"I try not to look at the messages, but if something really offends me, I'll write back and tell them to chuff off!"
Charlotte said she also came under fire for posting pictures of her in her pants but insisted she wouldn't change.
Most read in TV
Love Island voting percentages prove Kai & Sanam won by a mile
Hollyoaks' Jessica Fox gives birth to 'miracle' baby and reveals sweet name
Dumped Love Islanders mobbed by fans as they land in UK after missing final
EastEnders star James Bye & pregnant wife Victoria reveal baby's gender
She said: "It's normal to have stretch marks and rolls and you just have to embrace it."
The star also hit out at mum-shamers last year after she kept son Noah up until 10pm for a wedding party.
Charlotte, who is four months pregnant with her second son, lost three stone last year – but insisted she wasn't about to give up her favourite snacks.
She told The Sun: "I still have my chips and gravy but it's just not extra, extra, extra large portions.
"I used to have large fish and chips, sausage on the side, covered in gravy – it was just unnecessary. But I'm still enjoying myself, and I still have prosecco but just not to the extreme that I used to. 
"I used to go to the chippy and everyone knew me and knew my order, and it was embarrassing."
Charlotte, who is the daughter of legendary late entertainer Les Dawson, has appeared on shows including Celebs Go Dating, Ex On The Beach, Celebs on the Farm and Love Squad.

Source: Read Full Article