Superteam in progress? Liberty routed in opener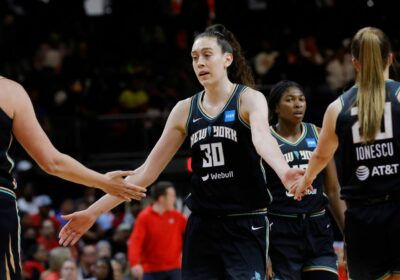 Covers women's college basketball and the WNBA
Previously covered UConn and the WNBA Connecticut Sun for the Hartford Courant
Stanford graduate and Baltimore native with further experience at the Dallas Morning News, Seattle Times and Cincinnati Enquirer
Tabbed as a "superteam" heading into the 2023 WNBA season, the New York Liberty showed they are still a work in progress after their 80-64 season-opening loss to the Washington Mystics on Friday night.
The 16-point defeat would be the largest season-opening loss by an eventual WNBA champion, according to ESPN Stats & Information research. But point guard Courtney Vandersloot said the Liberty is nowhere near "panic mode by any means."
"It's got to build up," coach Sandy Brondello said. "I wish we had a little longer camp with our full team. … We can learn a lot from this. The team with the most chemistry certainly won tonight. We were not very good, and they were very good."
Indeed, New York looked like a team with multiple new pieces and players still getting back into the basketball groove, whereas D.C. looked like a unit that had played together for years. After all, four of its five starters were part of its title-winning run in 2019.
"This was a huge lesson for us," Vandersloot said. "What a big test for us to start off the season and play a team like this that really clicked on all cylinders tonight."
Over in Brooklyn, offseason additions Breanna Stewart, Jonquel Jones and Vandersloot saw limited action in training camp, taking the practice floor altogether for the first time this week. Jones, who demanded a trade to New York in January, is recovering from a foot injury, while Stewart, who signed with the Liberty in free agency, rested parts of camp coming off her overseas season in Turkey. Vandersloot, who was also a free-agent signee, missed time after suffering a concussion early in camp.
Jones and Vandersloot were both on minutes restrictions Friday, seeing the floor for 19 and 27 minutes, respectively.
The lack of chemistry and rust was on display Friday, as the Liberty shot 34% from the field compared with 45.7% by the Mystics. They also went 7-for-31 from 3-point range and committed 22 turnovers. Washington capitalized on the New York miscues, dominating the open floor with 16 fast-break points.
"At the end of the day, the more chemistry that we build, the more understanding that we have of our offense and the positions that we want to put each one of us in, that will all take care of itself," Sabrina Ionescu said. "That starts with me and Courtney being the leads and taking ownership of taking care of the ball and holding everyone accountable. We forced it a bit."
Ionescu, the former No. 1 draft pick, led all scorers with 18 points, while Stewart and Betnijah Laney combined for 22.
The Liberty hope to iron out the kinks before their home opener Sunday at 2 p.m.
"We got good shots," Ionescu said. "We got shots that we know we're going to make, and we're going to build off that and bring that Sunday."
Setting aside the Liberty's growing pains, the performance was a statement for the Mystics that they're not one to be forgotten when talking about championship contenders.
"Y'all can keep sleeping," said Natasha Cloud, who finished with 14 points, six rebounds and six assists. "We're confident in what we have in this locker room. You can continue to talk about the superhero teams, but we know who we are and we know what we bring every single night. … We're such an unselfish team that really enjoys being around each other. When you talk about the makeup of a championship team, it's exactly that."
Source: Read Full Article