Long Under Scrutiny, a Gymnastics Coach Is Placed Under Restrictions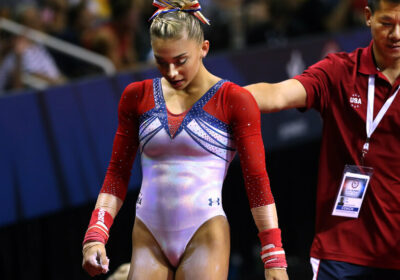 After at least seven years of formal complaints that he physically, emotionally and verbally abused his gymnasts, Qi Han, a coach and owner of one of the United States' top gymnastics training facilities, was placed under coaching restrictions on Wednesday by the United States Center for SafeSport while the center investigates allegations that he abused at least one of his athletes.
Until his case is resolved, Han, an owner of Everest Gymnastics in North Carolina, is barred from coaching gymnasts without the supervision of an adult properly trained in athlete safety.
In a letter shown to The New York Times, the Center for SafeSport, the entity mandated by Congress to investigate and resolve abuse cases in the Olympic movement, said Han could not have unsupervised interaction with any of his gymnasts, including by phone, texts or email.
While details of the accusation and the name of the accuser or accusers were not mentioned in the letter, the document said that SafeSport handed out temporary restrictions based on the severity of the allegations, the evidence in the case and the risk to athletes training under a coach.
Monica Avery, who is an owner and coach at OSEGA Dream Academy outside of Asheville, N.C., and in 2016 reported to U.S.A. Gymnastics that she had seen Han kick an athlete at a meet in Texas, said the action was overdue. U.S.A. Gymnastics, the national federation for the sport, handed the case to SafeSport the next year, in 2017, a federation spokeswoman said several years ago.
"The emotional damage all these girls go through is so heartbreaking, and it could have been prevented if Han would have been stopped years ago," Avery said.
Han did not respond to voice messages requesting comment.
Responding to The New York Times regarding accusations of abuse in 2018, Everest Gymnastics said, "We do not tolerate abuse of any kind in our facility."
"If any credible abuse allegations exist," the statement said, "Everest Gymnastics encourages those parties to contact U.S.A. Gymnastics."
Jill Geer, spokeswoman for U.S.A. Gymnastics, said the federation could not discuss any ongoing case but said, "Having cases handled appropriately and in a timely way is in the best interest of everyone involved, from the affected parties to the sport itself."
She added, "Efficient investigations and case closures help increase confidence in the process and create a safer environment for all."
The action against Han follows years of troubling accusations by his athletes — including by the former national-team gymnast and Olympic alternate Ashton Locklear — that he verbally, physically and emotionally abused them, upsetting Locklear and at least two of his other gymnasts so much that, they said, they considered suicide.
In 2018, those gymnasts spoke to The New York Times as Congress was investigating U.S.A. Gymnastics' involvement and cover-up in the case of Lawrence G. Nassar, the former national team doctor found to have molested hundreds of young girls and women under the guise of medical treatment.
The Nassar case revealed a deep and longstanding culture of abuse and fear in the sport, with coaches pushing their athletes beyond a healthy limit of physical training and mental toughness, all in the pursuit of college scholarships and medals. Yet investigations into some coaches, including Han, have taken years to be resolved. In his current case, it appears that SafeSport's action stemmed not from the many accusations that have been filed in the past, but from new allegations that the center will look into.
In the past, Locklear and several other gymnasts, as well as Avery, had filed reports against Han with either U.S.A. Gymnastics or SafeSport. While some of the accusers received periodic updates on the investigation, they said, investigators told them that their inquiry into Han and the way he treated his young athletes was still ongoing. Despite the severity of the claims, those cases were still ongoing with no explanation from SafeSport of why the inquiries have remained unresolved.
Those gymnasts claimed that Han hit them, pushed them, threw his cellphone and shoes at them and berated them. He would separate gymnasts, some who were as young as 9, into a "fat group." If they cried, those gymnasts said, he would call them stupid or unworthy of his time.
The parents of one of Han's gymnasts told The Times in 2018 that they felt pressured to refrain from reporting Han's abuse to authorities because he controlled the fate of their daughter to receive a college gymnastics scholarship.
Han grew up in China and competed for the national team there before moving to the United States and opening the Everest gym with his wife, Yiwen Chen, who also is a former member of the Chinese national team. Han soon became known for his technical expertise, particularly in coaching the uneven bars.
Locklear was a two-time national uneven bars champion when, in 2016, she was named an alternate for the Olympic team. But her abuse at the hands of Nassar and her experiences with Han, who has not been accused of sexual abuse, affected her so negatively that she retired from the sport.
"Coaches have this power over their athletes that keeps the athletes scared and silent," Locklear told The Times in 2018. "I still feel like I'm terrified."
Source: Read Full Article