F1 British Grand Prix LIVE: FP1 now UNDERWAY, qualifying tonight as Hamilton eyes home win – Silverstone latest updates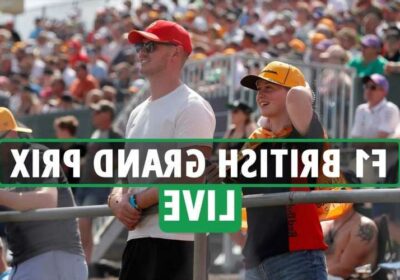 THE stands are packed at Silverstone with F1 action underway at the British Grand Prix.
We've three days of exciting racing ahead, with Lewis Hamilton looking to continue his stunning record at this track and stop the Red Bull charge.
FP1: UNDERWAY
Qualifying time: 6pm BST
TV/Live stream: Sky Sports F1/NOW TV
Follow ALL the action from Silverstone with our live blog below…
JOIN SUN VEGAS: GET A FREE £10 BONUS WITH 100s OF GAMES TO PLAY AND NO DEPOSIT REQUIRED (Ts&Cs apply)
Marc Mayo

HOW ABOUT NOW?

Lewis Hamilton is out on the Softs – and immediately complaining of 'vibrations' over the radio.

It's only P3 and still seven tenths off Max Verstappen for the Brit, with Valtteri Bottas going fourth.

Elsewhere, Verstappen is out for another run on the Softs – perhaps with more fuel as a sprint race practice run.

And Lando Norris is SECOND on the Mediums, with McLaren team-mate Daniel Ricciardo sixth. Going nicely.

Marc Mayo

IT IS EARLY, BUT…

Both Lewis Hamilton and Valtteri Bottas are outside the top ten.

Sat in the pits, they are behind a fair few drivers who have also only used the Medium tyres for their best time.

Surely it's only a matter of time before Lewis lifts himself from 12th. Surely.

Credit: Getty

Marc Mayo

AROUND WE GO

Carlos Sainz produces the first 360 of the weekend, spinning his Ferrari at Village.

He's back in the pits in one piece.
Marc Mayo

SOFTLY SOFTLY

It's time for some real pace from Max Verstappen, as if he wasn't quick enough before…

On the Soft tyre, he registers a 1:27.035, a seven-tenths improvement on his time with the slower Mediums.

Sergio Perez is over a second back after his first run on the quicker tyre.

Meanwhile, Lando Norris bumps himself up to third with Charles Leclerc fourth.

Marc Mayo

MCLARENS EMERGE

Daniel Ricciardo and Lando Norris have been stuck near the bottom of the timesheets for most of the session.

But a strong lap on the Mediums has the Aussie into sixth… ahead of the two Mercedes cars.

Marc Mayo

TOP TEN AT HALFWAY

1. VER
2. PER
3. VET
4. BOT
5. HAM
6. OCO
7. STR
8. GIO
9. RAI
10. MSC

Credit: Reuters

Marc Mayo

MAX POWER

Mercedes might have to turn it up a notch, or twelve.

Sergio Perez shaves a couple of tenths of his time before Max Verstappen goes quicker to put a whopping 1.7 seconds between himself and Lewis Hamilton.

That's a 1:27.745. Anyone fancy topping it?

Marc Mayo

RED BULL ALERT

We had a Mercedes one-two for far too long and now the championship leaders are getting involved.

Sergio Perez, on the Mediums, breaks into the 1:28s before Max Verstappen launches into the lead.

That's over half a second quicker than his team-mate and over a second clear of the Mercs. Ominous.

Credit: Getty

Marc Mayo

TESTING THE LIMITS

Drivers are wasting no time pushing the boundaries with stewards deleting a handful of times for running outside of the kerbs.

Valtteri Bottas goes quickest, three tenths clear of Lewis Hamilton and it is allowed to remain despite the fact that he ran wide at Club.
Marc Mayo

SETUP TO FAIL?

Lots and lots of running will be necessary in this hour due to the rejigged race weekend.

Regular qualifying tonight means cars go in Parc Ferme after that session, so any setup changes and tweaks must be made on the basis of a single practice runout.

Typically, drivers have all three practices before having to nail down their particulars.

Credit: Getty

Marc Mayo

HOME FAVOURITES

George Russell puts himself in ninth after a strong first outing around his home track – a place behind emerging rival Fernando Alonso.

Fellow Brit Lando Norris is currently 13th in the McLaren.

Marc Mayo

FIRST TIMES IN

The Medium tyre is pulled on first off by Lewis Hamilton who eases into top spot with a 1:30.048.

Almost everyone else has got out on the track with the Hards.

Marc Mayo

LIGHTS OUT

Let's go racing!

We have Ferraris and McLarens among the first out on track.

Marc Mayo

HERE WE GO

The grandstands are packed, the sun is (kind of) shining…

What more could we want?

The British Grand Prix first practice is about to get underway.

Credit: Getty

Marc Mayo

TRACK GUIDE

We all know Silverstone inside out, from the twists and turns of Maggots and Becketts to the Hamilton Straight on the start/finish line.

But where will the overtakes be taking place?

The home straight is not the longest so, barring a daring dive down the inside at Village, the Wellington Straight into Brooklands is the best chance in the early part of the lap.

Anybody trying to overtake at the blisteringly fast Copse corner will be a brave man – but it has been done before.

After the S's, the Hangar Straight into Stowe is a popular opportunity, as is a last-ditch make-or-break dive at final corner, Club.

In other words. There are many overtaking places on this track. Many.
Marc Mayo

WEATHER FORECAST

Is this glorious sunshine set to continue?

Continue?! It's going to get hotter!

Track temperature right now is hovering just below 24°C with clear skies and 28°C predicted for Saturday.

The race on Sunday currently has a zero per cent chance of rain, and lots more sunshine.

Marc Mayo

START YOUR ENGINES

The tenth round of the 2021 Championship features the first-ever sprint race and practice begins in just an hour's time.

Today, we have a session at 2.30pm followed by the typical qualifying runout at 6pm.

That will be the typical Q1, 2 and 3 affair to determine the grid for tomorrow's sprint race.

It promises to be a wild ride that could well change the future of the sport as we know it… So join us for the latest updates and news throughout the weekend!

Jim Sheridan

HEAT WAVE

We couldn't have asked for better conditions at Silverstone today.

The sun is out, the temperatures are soaring and the fans are making themselves comfortable with F1 action imminent.

Credit: Getty

Credit: Getty

Jim Sheridan

FANS-TASTIC

Lewis Hamilton is banking on 140,000 fans roaring him on in Sunday's British GP to stop Max Verstappen's romp to the F1 title, writes Ben Hunt.

Hamilton is a whopping 32 points behind the Dutchman in the championship and set to lose his crown.

And now Hamilton, 36, hopes the fans can play their part in making up ground on the Red Bull racer.

When quizzed by SunSport about his seven wins here and having home advantage, Hamilton said: "With all those elements I hope and pray that is the case.

"Another element is the sprint race, the new format.

"Of course, it is easy for any of us to get it wrong but there are also opportunities there, which is exciting.

"And the element with the fans. There is always an energy and a buzz that the fans bring and without doubt when it is your home grand prix, there is always more heat behind you.

"So I am hoping that all those factors come together and close that gap those guys had managed to grow out and enable us to really take it to them this weekend."

Jim Sheridan

MAX POWER?

Max Verstappen has admitted that he won't mind if he only finishes third in tomorrow's sprint event at the British Grand Prix.

As part of a shake-up this year, the traditional qualifying has been replaced by a sprint.

In addition to jostling for position for Sunday's Grand Prix, drivers can earn points for finishing in the top three.

The victor will receive three points, while the runner-up will be rewarded with two and third place with one.

While Verstappen, 23, would love to win it – he is squarely focused on Sunday's race, and the Driver's Championship.

He said: "Such a sprint race can be risky. You have to weigh up the risks.

"We are fighting for the title and a sprint race is probably not going to determine who becomes champion.

"Of course I want to win it and I don't want to finish lower than third.

"You have to take chances. Even if it only yields a few points.''

Jim Sheridan

THREE'S A CROWD

The three Brit drivers in action today can't wait to have a huge crowd back in at Silverstone.

140,000 are expected for the race on Sunday, with fans already packed in for F2 which is underway in the lunchtime sun.
Jim Sheridan

LIGHT'S OUT

The big day has finally arrived.

There's nothing quite like Silverstone when the sun is shining – and what a weekend we have in store.

Around 340,000 F1 fans are piling into motorsport heaven over the next three days, making it the biggest sporting event since the start of the Covid-19 pandemic.

Lewis Hamilton loves it here and the fans will be right behind the Brit star as he looks to end Red Bull's superb start to the season.

Max Verstappen leads the Driver's Championship heading into Sunday's big race, while we will also witness the debut of the F1 Sprint.

The new-look format has been described as an 'unknown' by those in the paddock, but looks set to be a terrific test of the 20 drivers talent.

Today we've got FP1 and qualifying, with temperatures already passing 25c.

Hamilton, Lando Norris and George Hamilton are the three lions going for glory on home soil, so let's get some build-up on the way with action from 1.30pm.

Credit: Getty Images – Getty
Source: Read Full Article