Hi Hello, Your Sex Horoscope for the Week Is Here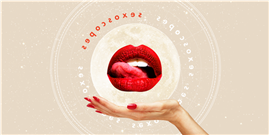 What's happening: Tonight, the Sun and lucky Jupiter are harmonizing, helping you feel more upbeat and outgoing as you start your weekend. Mercury (which is still retrograde rn) connects with lovey Venus on Saturday, creating the perf astro-weather for meeting someone new or starting an important convo with your partner.
Sunday, however, is a different story: The Sun squares off with Pluto, the planet of power and transformation, creating a volatile vibe where you're pushed to make a sudden change. This is a huge red flag for arguments and even breakups, but you can escape in (mostly) one piece as long as you listen and remain flexible.
Mercury Retrograde FINALLY ends on Monday, and at the same time, Mars and Jupiter hook up, ramping up your sex drive and confidence.
What that means for you:
Aries
Every! Single! Transit! this week is activating your chart's relationships zone. Romance is the name of your game this weekend, and you're finding it easier than ever to both give and receive affection. You're feeling really close to your boo, and you might even be ready to take the plunge and DTR—but don't! Just wait until Mercury Retrograde ends on Monday before popping the question. After that, you can anticipate a hot, hot, hot rest of the week thanks to Mars' influence cranking up your libido!
Taurus
Your chill earth sign vibes are wonderful for keeping yourself out of trouble living a drama-free life, but you can also be just a little bit passive-aggressive. That's where we're at now, Taurus—you know there's something wrong, but you're not doing anything about it. If you're not happy with your love life—whether it's the romantic or sexual aspect—you gotta do or say something to change it. Waiting around all week will only make you feel more stressed and can potentially lead to big fights with your boo, even if it's over something minor. Start those tough talks before things get outta control.
Gemini
This is a stellar weekend for all the single Geminis out there! Cast a wide net, because there are tons of hotties out there waiting for you to hit them up. Whether it's a date, a hookup, or a serious relationship you're after, this week's astro-weather shows that there's major potential for your love life—as long as you put yourself out there. And whether you're single or coupled up, and you can make major moves in your love life this week. Act fast, though, because Scorpio season (AKA one of the busiest seasons of the year for you) is right around the corner!
Cancer
You're a water sign so every week is emotional, but lemme tell you, this is a real effing emotional week! Some of your love connections (old and new) are fizzling out this weekend, and you're seeing tons of doors close in your face. Not fun, I know, but just wait—with every door that closes now, another one will open after Mercury Retrograde ends. The first half of the week is for you to find closure and move on, so once all of these new love opportunities start popping up, you can have an amazing time with them without worrying about the past!
Leo
If you've been stuck in a love drought, this week's astro-weather is here to help you quench your thirst. If you're in a relationship, or want to be in a relationship with someone you're casually dating, tonight and Monday have a lovely blend of astro-weather perfect for starting The Talk or just having an amazing time with your special someone. If hookups are more your thing, Saturday's your day to go wild! Mercury's connection with Venus is stellar for making new connections—but Mercury is retrograde, so watch out: Your "new" connection might actually be an ex!
Virgo
So, your love life isn't a big priority this week, Virgo—you're too busy at the office to even think about fooling around. The one exception is Sunday, when the Sun and Pluto square off…and it's not looking too pretty. I don't mean to scare you, but you're reaching an important point in your love life rn. Whether you're single or not, there's something that's just not working. Are you hung up on an ex? Are you afraid to ask your sweetie for what you really want? Are you scared of commitment? These are some of the tough questions you'll be asking yourself this week, Virgo, and it's important that you're honest. It's not fun work, but it's important work, and it will benefit the future of your love life.
Libra
HBD! This week has a lovely blend of astro-weather for your love life, starting with tonight's Sun/Jupiter connection. Simply put, you're feeling way luckier in love, whether you're crushing hard on someone, fooling around with a FWB, or years into a LTR. Saturday's a good day if you're looking for someone new, and on Monday, Mercury Retrograde ends! All of the ex-related drama you've been struggling with is finally over, and you can move on. You're finding new hotties to flirt with, and thanks to the Mars/Jupiter connection on Monday, you're also having a kickass time in the bedroom! Enjoy!
Scorpio
Mercury Retrograde and Libra season both like to bring exes your way, and you've probs been dealing with people from the past forever. Well, lucky you, Mercury Retrograde ends this week, and you're at the end of Libra season, so the drama is thiiiiis close to being done! There's one tiny speed bump to get over before you can start thriving again, and it's likely happening on Sunday in the form of a real intense convo with your ex. Whether you can't let go of them, or they don't want to let go of you, something has to budge so you can both move on. I'm not saying you need to be ruthless, but keep it real with them. If you're interested in trying again, tell them. If you want them gone, tell them. Make sure you're listening, too. You got this.
Sagittarius
This weekend's an easy, breezy, beautiful one, Sagittarius. Expect a pleasant vibe and enjoy the good mood you're in—even if you don't get too much action. This is a really nice time for single Sags out there, because this astro-weather is all about meeting new people and forming new connections. You also have Venus, the planet of love, in your sign right now, turning you into a total babe magnet. This is not a good time for taking things slow, so go with the flow! Get laid! Flirt! Go on a ton of dates! And most importantly, have fun!
Capricorn
You're known for having sky-high standards, and you absolutely refuse to date someone who doesn't meet those expectations. But right now, you're finding that maybe your partner isn't as perfect as you thought—or as perfect as you'd like. A slip-up, maybe a forgotten anniversary or accidental ghosting, is happening this week. It might make you feel like popping off…but try to avoid that. Expecting someone to be perfect 100% of the time puts them under a ton of pressure. Nobody's perfect (not even you!), so let it slide. It's all good!
Aquarius
You're being encouraged to turn your love life into an adventure this week, Aquarius! That could look like re-downloading the dating apps, trying a new spot for date night, picking up some sexy toys or lingerie, maybe even inviting a third (or fourth… or fifth…) person into the bedroom with you and your boo. You shouldn't anticipate any major hiccups or problems this week, but you also shouldn't expect any action unless you're willing to be the one to initiate contact. Good luck!
Pisces
Be careful who you're getting close to this week, Pisces. This is an extremely emotional time for you, and the potential for romantic ecstasy is sky-high—but there's equal potential for heartbreak. Sex simply feels way better now, not just in the physical, tactile way, but also in an emotional, sensual, and intimate way. If you're with someone, this is exceptional relationship-building astro-weather for you, both in and out of bed. If you're single, however, catching feels is a guarantee. If you're dating someone and want to take things to the next level, wait until Mercury Retrograde ends on Monday, then shoot your shot—this could be the start of something amazing!
Source: Read Full Article