After Concert Industry Giant's Passing, His Mansion Sells For Millions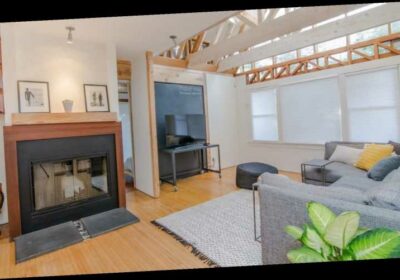 Disclaimer: featured image is not their actual mansion
Mitch Slater was known as a trailblazer for the concert industry. The multi-millionaire was highly esteemed as a music mogul, and was the catalyst in the promotions industry. Credited as being an untouchable leader when it came to massive live events, Mitch's wildly successful life came to a tragic end at the young age of just 59, after suffering some health issues. It's not yet been a year since his death, but according to the New York Post, his widow, and Pamela Slater is looking to sell their massive mansion in Westchester's North Salem. The area in which their massive 12,655 square foot mansion was built, is called "Billionaire's Dirt Road," and this property can now be yours if you're ready to drop a cool $8.99 million.
RELATED: Rihanna's London Home Is Being Sold For $41 million
With a net worth of a whopping $2.5 billion, as reported by Yahoo Finance,  it's no wonder that Mitch and Pamela opted to raise their family in a house of sheer opulence.
This luxury mansion sits on a sprawling 10.48 acres, and boasts more space than most of us would ever know what to do with. In fact, when discussing the features of the property, a spokesperson for the estate indicated that this would be a "fine place" for large animals such as horses and alpacas to find sanctuary.
The stunning, professionally designed mansion includes 6 oversized bedrooms and 7 full bathrooms, complete with all the luxuries you'd expect from a property of this nature. There are also 5 powder rooms and of course, a spiral staircase that is what most dreams are made of.
Those who appreciate fine architectural details will be impressed by the circular library and of course, there's an enormous home gym and room for all the help to reside as well.
These fancy digs have sadly outlived Mitch Slater, but are now available for another wealthy family to enjoy. The massive infinity pool is perfect for entertaining, and of course, the grounds are meticulously landscaped and cared for.
As for Pamela, there's no mention as to why she's selling her enormous property, but it's clear to see that even after his own passing, Mitch Slater's legacy continues to generate an enormous amount of revenue for his family.
Living in the lap of luxury in Mitch's house will require an $8.99 million investment but the lucky new owner of this land will be in very good company.
Surrounded by the daughter of former New York mayor Mike Bloomberg, Georgina, and other wealthy socialites, this property holds its own and offers a vast space to host parties and events, something Mitch Slater would have likely been proud to see.
Source: Read Full Article