Travis Barker Says He Feels 'Much Better' After Getting 'Intensive Treatment' for Pancreatitis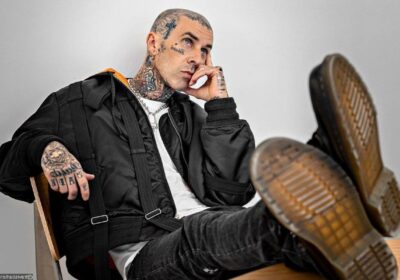 Travis' wife Kourtney Kardashian also speaks on his medical issue as she thanks 'specialists, doctors, and nurses at Cedars Sinai for taking such wonderful care of my husband and me during our stay.'
AceShowbiz –Travis Barker has finally broken his silence on his health issue. Days after he was admitted to the hospital due to pancreatitis, the Blink-182 drummer informed his online devotees that he feels "much better" after getting an intensive treatment.
The 46-year-old gave fans an update on his condition via Instagram Story on Saturday, June 2. "I went in for an endoscopy Monday feeling great. But after dinner, I developed excruciating pain and have been hospitalized ever since," he first penned.
"During the endoscopy, I had a very small polyp removed right in a very sensitive area, usually handled by specialists, which unfortunately damaged a critical pancreatic drainage tube. This resulted in severe life threatening pancreatitis."
"I am so very very grateful that with intensive treatment I am currently much better," the husband of Kourtney Kardashian concluded his message. He added a a praying hands emoji.
Kourtney herself also speak on her spouse's medical emergency. "Oh what a scary and emotional week it has been. Our health is everything and sometimes we take for granted how quickly it can change. Travis and I went in for a routine endoscopy together and he ended up with severe, life-threatening pancreatitis," she said.
"I am so grateful to God for healing my husband, for all of your prayers for him and for us, for the overwhelming outpouring of love and support. I am so touched and appreciative," the TV personality continued. "I am so so thankful to our specialists, doctors, and nurses at Cedars Sinai for taking such wonderful care of my husband and me during our stay."
In another post, the former star of "Keeping Up with the Kardashians" stated, "It's crazy how sometimes words could never truly express the gratitude or feelings I have inside of me."
Travis was photographed lying on a stretcher outside of Cedars-Sinai Medical Center in Los Angeles on June 28. He was accompanied by his wife Kourtney as he was being wheeled out of the ambulance while holding up his right hand.
Travis' hospitalization came just over a month after he and Kourtney tied the knot in Portofino, Italy. They initially wed in May following practice nuptials in Las Vegas in March, before holding the third ceremony for family and friends in Italy.
Source: Read Full Article