'Covid doesn't exist here' Toni Collette reveals how she feels 'guilty' for rest of world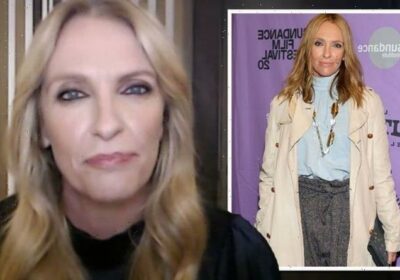 Toni Collette says that life is 'pretty normal' in Australia now
When you subscribe we will use the information you provide to send you these newsletters. Sometimes they'll include recommendations for other related newsletters or services we offer. Our Privacy Notice explains more about how we use your data, and your rights. You can unsubscribe at any time.
Australian actress Toni Collette made an appearance on ITV breakfast show Lorraine this morning to talk about her upcoming film projects. The 48-year-actress, who filmed new movie Dream Horse with Damian Lewis in Wales in 2019, is currently back home in Australia.
While chatting to her guest, Lorraine Kelly asked how things were in Australia.
The mum-of-two said there had been hardly any cases of COVID-19 recently and so life had returned to normal.
She went on to admit that she felt guilty about that when she saw the suffering that was going on around the world, due to the coronavirus pandemic.
The Muriel's Wedding star said it was "heartbreaking" to witness.
"There's been quite a bit of normalcy I have to say, but for quite some time," Toni told Lorraine when she appeared via video link.
"And we look at the rest of the world and it's completely heartbreaking and actually I have felt a little bit guilty about how easy and normal things have been for quite some time here.
"We had, compared to the rest of the world, quite a minimal lockdown last year, but life is pretty normal."
"I mean everyone has to remain vigilant and aware and do their best but, it's really, Covid doesn't exist here," she went on to add.
"Toni Collette, don't feel guilty about being in Australia being virtually Covid free and opening up everywhere.
"You closed the borders and your borders are staying closed until next March. Good luck to you #lorraine," one person tweeted following her stint on TV.
Australia's borders are currently closed.
The only people allowed to enter the country are Australian citizens, permanent residents, immediate family members and people who have been in New Zealand territory for at least 14 days.
Toni's new film Dream Horse, which premiered at the Sundance Film Festival in January 2020, is finally set to be released in the UK next month.
It follows the true story of a race horse called Dream Alliance which was bred by Welsh bartender, Jan Vokes.
The award-winning star will take on the lead role alongside Game of Thrones actor Owen Teale, Gavin and Stacey's Joanna Page and Damian.
The Warner Bros release was delayed due to the pandemic and subsequent lockdowns.
As of this week, cinemas in England, Scotland and Wales are allowed to re-open following months of closure.
Venues in Northern Ireland are set to open on Monday.
Toni's next project will see her star in drama series The Staircase, which follows the Netflix true-crime documentary.
She will play Kathleen Peterson alongside Colin Firth, who will take on the role of novelist Michael Peterson.
Source: Read Full Article