Big crash league?
In a week in which Tony Abbott claims to be the father of gay marriage in Australia, it is best to take all official utterances with a grain of salt and then spit them out anyway.
With that in mind, it can be said with some assurance that whatever the numbers say, the Big Bash League desperately needs a bashingly big finish to its season this weekend.
BBL08 has been if not a play-and-miss, a mis-hit. It hasn't gotten all of it; it's come off the outside half. Average crowds are down by around 5000 a game. The raw numbers are still respectable by any standard, but the trend is not.
As best can be told, once you scrape away the saliva and spin, it is the same for television ratings. Some of that is due to the secreting of many matches behind a pay wall, but that was Cricket Australia's choice, so it cannot also be its alibi.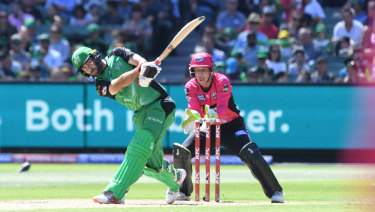 No pressure: Glenn Maxwell.Credit:AAP
Of course, the quantum of spectators is up, by about 130,000, because there have been more matches, 56 instead of 40. It's a lot more games for a few more eyeballs, half of them at the new Perth Stadium.
Otherwise, that extra eyeballs figure reads less like an influx of new fans clamouring at the gate and more like the number for a set of devotees with the time, money and inclination to go more often. Market research may say otherwise; see grain of salt above. As for TV, Channel 10 say they don't miss it and Channel 7 say they've been pleasantly surprised. Pass the shaker again.
Speculations about this loss of lustre abound. The least logical is that the season is too long. It's two months. If the AFL season was reduced to two months, there would be rioting and looting. I know T20 is the game for the lesser concentration span, but two … what was I saying again?
The BBL's expanded fixture does mean more matches with fewer stars, Australian and international, diluting the standard. It means it starts before schools break up, and finishes after they go back, depressing crowd numbers, as per the old 50-over tri-series. On television, it means many matches, but because of the pay tie-up, no continuity, creating a take-it-or-leave-it effect. In turn, that minimises any sense of an unfolding narrative, the spine of any sport. It it's on, it's on, if not, ah well.
It may have come as a surprise to many that both Melbourne teams are in the finals.
This is not about the game itself. It's diverting enough, even if it sometimes seems that it is all about filling the interludes between sixes while keeping a vigil for double-clutched boundary rope catches and grimacing at full-tosses. It went well enough with wine on a few summer evenings for this columnist. At some point, I lost the season's thread, but I'm far from the target demographic anyway.
It's about the landscape. Look at the nomenclature: #BBL08, and don't forget the hash-tag. Eight seasons and counting, more when you include the state-versus-state progenitor. Cricket authorities say the BBL is still young and evolving, but it's not. When the World Series Cup, the pioneer of the one-day international format, was in its eighth year, it was fully established as a thing. Dean Jones, newly inducted Hall of Famer, was capturing imaginations as no-one in the Big Bash does now.
Matthew Wade: aiming high.
Credit:AAP
Sports, and formats, have half-lives. It took 100 years from the birth of Test cricket for a shorter form to appear, less than 30 years for an even shorter form to emerge. A dozen years on, T10 is off the drawing board and doing trials. Women's cricket is growing, but that is because it is filling a long-standing gap, not trying to create and sate a new one.
Following this bouncing ball, it is possible to surmise that the Big Bash League may be trying to expand just at the moment when it has reached its natural peak. That makes the other side scary.
Of course, in T20 cricket, three big hits in quick succession changes everything. That's the premium on the BBL's three-match finals series, starting in Hobart on Thursday night. Two Melbourne teams will stimulate interest here, but looking ahead, the BBL needs more than blips. No pressure, Glenn Maxwell, Aaron Finch, Matthew Wade et al: all you've got to do is save the game.
Source: Read Full Article